Today is called the era of innovation, where everything is becoming superfast; so is sports. Similarly, robotics has become pretty advanced with the time that it can do anything; from cleaning your home to training you in a particular sport, robots launcher play a vital role.
In the same way, the table tennis robot also helps you improve your game and train you when there is no second player available. These ball-launcher are specifically designed for playing ping pong because they are the most responsive ones and never miss a shot. Although you must practice with some proficient players thus, the best ping pong robots are designed.
These ping pong robots are quite advanced and are considered better than humans in training table tennis. However, if you are also a practitioner who does not get any player to practice with, you should consider a ping pong robot.
Best Ping Pong Robot Ball Launcher Reviews 2021 List
| | | | | |
| --- | --- | --- | --- | --- |
| Names | Ball out frequency | Ball Speed | Spin | Serve loop |
| | 40-70/minutes | 4-40 m/s | Top, under, non-spin, left and right side spin | adjustable angle from 0 to 40 degree |
| | 35-80/minutes | 4-40 m/s | Top/under/non-spin/left,right | adjustable angle from 0 to 40 degree |
| | 40-70/ minutes | 3-30 M/S |  2 wheels drive (multi-spin, up and down, right and left) | adjustable angle from 0 to 40 degree |
| | 40-70/ minutes | adjustable | Adjustable spin | adjustable angle from 0 to 40 degree |
| | 40-70/minutes | 4-35 m/s | Topspin, underspin, non-spin, left and right side spin | Adjustable |
| | 12 to 70 balls per minute | Adjustable | adjustable | N/A |
Here you will get the ten table tennis robot reviews so that you don't need to wander in search of these machines. Each product in the list has been brought by testing them personally so that I could share my honest reviews with you. Let's glance at every robot and decide which one meets your requirements.
Suz Table Tennis Robot Machine S101 – Fully Automatic Ping Pong Machine
Machine S101
Suz is one of the most renowned companies, which delivers a series of pioneering automatic ping pong ball launcher. Nevertheless, for easy practice, the Suz S101 table tennis robot is an ideal option for you. This machine is designed in a way so that you could operate it very efficiently.
Its design is quite simple and easy to install. When you start operating this machine, you will get all the instructions in easy language so that you can understand them effortlessly. 
Moreover, it has an analog controlling system through which you can regulate the speed of the ball throw and frequency as well. With this robot, you will receive a pack of 100 balls in both orange and white shades. Besides, an integrated remote also comes along with this table tennis training robot to control the entire system and provide a more straightforward control from a distance. Through this remote control, you can adjust the position and frequency of the robot.
In addition to this, the Suz S101 is compact in size and can be stored anywhere in your home. However, if you are looking for a table tennis robot that fits everywhere, go for the Suz ping pong S101 Machine. Not only this, it provides you great convenience to move and travel it along with you.
Its construction is very durable since it is built with a high-quality plastic material that lasts for years. Yet, remember to install a maximum of 15 balls at one time to get a better throw and other options.
Pros
Adjustable height

Distant remote control

Supreme construction

It comes along with 100 balls

Installation is effortless
Cons
The angle may annoy you a bit

Can store up to 15 balls only
Suz Table Tennis Robot Machine S201 – Budget-Friendly Robopong
Machine s201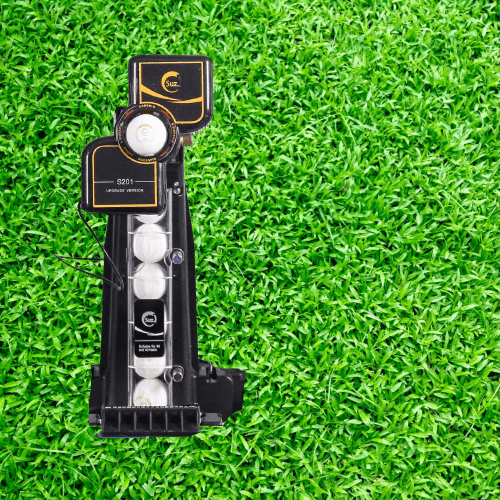 Suz ping pong machine robot S201 offers an intelligent design that delivers multiple spin styles. Notwithstanding, these styles include topspin, left-spin, right-spin, and backspin. This robopong is one of those designs which is particularly adapted to improve the overall performance.
The Suz S201 ping pong machine is the best option for those looking for a robot that automatically collects the balls and fills them in. This robot can store up to 300 balls and collects them after throwing. This is done through an inbuilt system known as ball recycling, not a system that automatically collects the table tennis balls and stores them simultaneously.
Well, it is an extreme headache when you practice table tennis, and once you are done, you have to find each and every ball and collect them. Yet, you don't need to worry about it now. Additionally, the Suz S201 ping pong robot encompasses an adjustable robot head to regulate the height according to you. Nonetheless, to adjust this height, all you need to do is to loosen the copper button, modify it, and tighten it again to fix it.
Moreover, this whole pack includes all specifications that are required to practice table tennis. These features comprise a serving wheel, ball ruler, power supply, control box, two playing modes such as an attack-the-ball and two-jump-ball, and the robot itself.
Pros
Delivers nine spinning styles

Automatically collects and stores balls

The robot head is adjustable

Analog control for ball frequency

It can collect up to 300 balls at one time
Cons
The size isn't compact and lightweight

Pretty expensive to buy
ZXMOTO Ping Pong Robot Machine – SmartPong Table Tennis Robot
ZXMOTO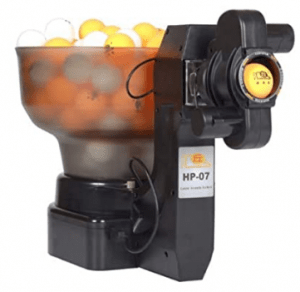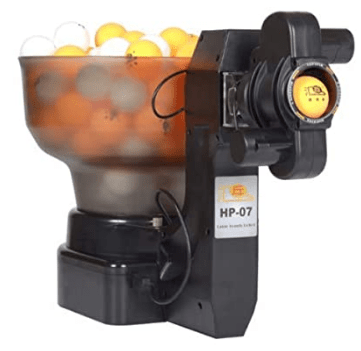 ZXMOTO table tennis machine is another one of the best ping pong robots that are popular for delivering 36 various spinning styles. This robot offers styles such as backspin, front spin, and numerous other styles. Although you modify the topspin, single and double end serve options, as well as different styles, but its falling point is not fixed.
The machine is operated ideally when you store more than 15 balls in it. You would get the twist frequency buttons to regulate the frequency of the ball as per your requirement. Besides, it is suggested to use the ping pong balls of international standard size in this machine.
However, if you use less than 15 balls and run this machine, the robot won't sense it, and it will not come out of the device. This robot can rotate left and right just like a human while playing so that you become proficient in receiving shots from every side.
Moving towards the capacity of this machine_ this smartphone table tennis robot can hold up to 110 table tennis balls. However, when you purchase this machine, you won't get the ping pong balls along with it. Besides, you can also adjust the speed of this machine from slow to fast. Other than that, you can easily install the setup, and it would not consume much of your time to set it up.
However, if you want to buy the Good ping pong balls, you can check out a detailed review on that.
Pros
Its capacity is 110 balls at a time

The frequency can be adjusted

You would get 36 kinds of spin styles

This machine comes with a 1-year warranty
Cons
You need to purchase the ping pong balls separately

The robot works with at least 15 balls
ZXMOTO

Automatic

Table Tennis Robot with Catch Net for Training
ZXMOTO3
The ZXMOTO brand has been developing some coolest robots of all time that allow you better operational use with its several functions. With the ZXMOTO ping pong robot with a catch net, you don't require a ping pong table since this machine comes up with an inbuilt net that can be clipped to any table and permits you to start playing.
Not only this, the dimensions of this machine are 31.5 x 15.7 x 16.1 inches that make it super convenient to move and store. This machine takes the ball of international standard size, i.e., 40mm or sometimes 40+mm. However, its capacity is average as compared to those which carry numerous balls at a time. This robot only takes 30 to 80 balls at one time.
Furthermore, the ZXMOTO table tennis practice machine is constructed to be clamped on the table, which means that you can hook its net to any ordinary table and make it a ping pong table. With this feature, you don't need to travel with the whole setup; just take your robot and ping pong balls and practice wherever you want.
Notwithstanding, the feature that makes it ideal for many practitioners is the diversion in spins and several innovative modes. This trainer bot ping pong machine delivers nine styles of spin. However, backspin, topspin, serve, sidespin, and no spin are some of its styles.
Although its weight is somehow lighter, the overall size is pretty massive that may damage the table. Thus, whenever you put this robot on the table, make sure that the table is firm and solid so that it does not get hurt.
Pros
Automatic ping pong ball launcher

It comes with an additional catch net

It offers nine spin styles

Easy to set

It can be controlled with the remote control
Cons
Produced a little noise

Heavyweight
Suz S102 Ping Pong Machine with Wireless Remote Control
SUZ S102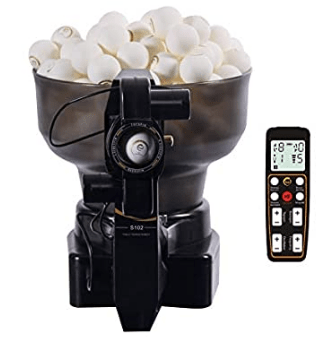 An incredible ping pong robot, which is another series of Suz robotics. This is an excellent product that enables you to practice, no matter what your level is. You can play with these machines using different techniques because of their outstanding versatility and reliability.
One fantastic benefit of this robot is that it also permits you to adjust its speed and frequency so that you could practice on both slow and fastball throws. You can change all its settings effortlessly using the wireless remote control. Moreover, whatever frequency you set, you can see this on its remote control.
Another advantage of this machine is that if you don't use it for many days, you can take out its battery to save power. When you get this robot, you will get an instructions book that is there to help you with the installation. This guide is written in simple language so that you could understand it readily.
Pros
You can control this device through a remote

An analog is also there to regulate the frequency.

Its battery can be taken out

The position can be adjusted

Compact and convenient to move
Cons
Not as reliable as an expensive table tennis robot
iPong Original Table Tennis Trainer Robot – Best Ping Pong Machine for Youth
Machine S101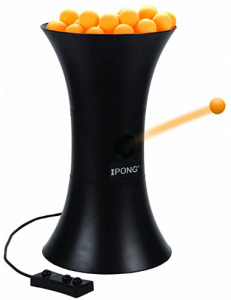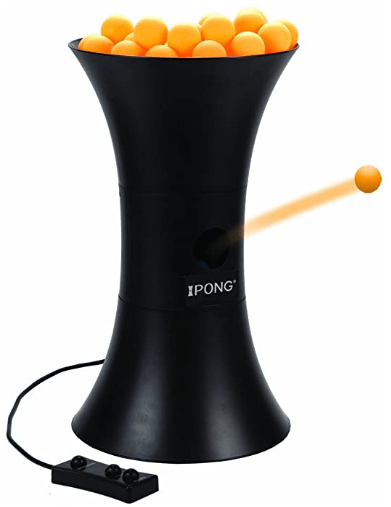 An iPong original series is an excellent option for table tennis players who look to develop their game for professional championships. However, this ping pong robot holds multiple spin styles such as backspin, topspin, and speed. Yet, you would get this product at an affordable price.
With the original iPong series, you will get a variety of features and specs since it is ideal for all types of players. But, if you are a beginner, then you must pick this robotic machine to practice ping pong. The iPong original table tennis practice robot will provide you with reliable consistency, precision, permanence, recreation, practice, and determination.
You would experience many positive aspects with this machine. You can practice with this robot for an extended period. Yet, this robot may not deliver the ball straight through, but it is also beneficial for you because you would be able to practice the shots from the sides.
This robot shoots balls from multiple angles to train you from all sides. Besides, its different angles include underspin, topspin, backspin, and so on. These various angles are specifically inserted to help you develop your table tennis game.
Pros
Extremely compact in size

Its design is not complicated

You can assemble this machine within a minute

It comes along with compatible devices
Cons
It does not comprise ping pong balls along with
iPong Play Automatic ping pong ball launcher 20 ABS Training

Silent
Machine S101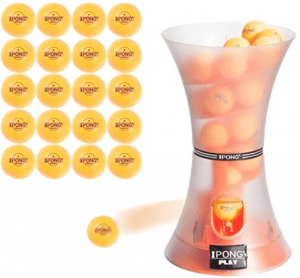 If you get a table tennis robot-like iPong V300, it means you have received an incredibly fantastic tool for ping pong practice. Usually, this machine is used for students by professionals to train them in the sport. There are a number of tables that can be folded to become ping pong tables for a single-player only. Thus, if you adopt such a table, it would be helpful in several ways.
Nevertheless, if you want to practice ping pong in a diverse way, you should definitely adopt this robot because it helps you expand the session and helps you tweak your skills. For operating this robot, switch it on, load the balls, and practice for a longer time.
You need to load the all to more than 100 capacity. However, once it is loaded, the iPong will start shooting without any delay. You can easily practice freely before reloading the machine. This robot also comes along with a remote; once you have tried its first session, you can use this remote to make any changes or adjustments.
Pros
It offers a lot of settings

It comes with remote control for your convenience

The display is previewed on the remote control

Throws up to 70 balls per minute

Releases silent ping pong balls
Cons
Inconsistent serves

The system may jam after some time
Oukei Digital Table Tennis Robot 2700-07b – Trainer Ball Launcher
Machine S101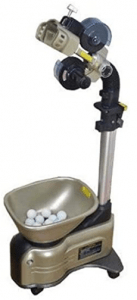 The Duke is another ping pong robot brand that delivers stunning products, especially the 2700-07B model. This model has a high-rate serving that can provide 30 to 100 balls per minute according to the set frequency. This machine is considered one of the most reliable and best ping pong robots because it is very convenient for all players.
This ping pong automatic server delivers different speeds as per the size of the ball and serves on an angle of 45 degrees. Moreover, the program of this model is set on self-mode that will suit your training requirements. Its compact and sleek design is the proof of its durability and excellence that you will barely get in other models at this price.
Other than this, the Oukei table tennis machine provides three serving modes along with nine landing and spinning points. Well, these are some genius features in this model that are helpful in practicing table tennis.
In addition to this, the ping pong table is included in this robot that holds both initial service and automatic ball recovery to make it convenient for you.
Although you don't require a table with this robot, still you can glimpse the Top ping pong tables separately.
Pros
Simply assemble and install

Works at adjustable speeds

Automatic ball recovery

Server up to 100 balls per minute
Cons
You may find it pretty expensive
Butterfly Amicus Prime Table Tennis Robot – Amicus Professional Robot
Machine S101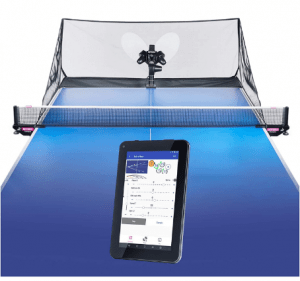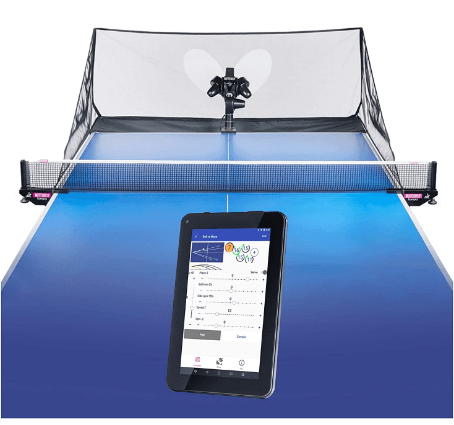 Here comes the most expensive ping pong robot in the list; the amicus professional robot is different from all other models discussed in the list that can be fully controlled through Bluetooth or mobile application. The Amicus series is the leading table tennis robot in the market that is designed to provide the ideal training experience to professional trainees.
This machine encompasses every ball parameter; though it is speed, spin, or placement, you can control it with high precision. It provides 20 professional program drills. Additionally, you can install and store 99 more drills in it with a maximum of 7 ball sequences.
Its entirely automatic frequency system substantially regulates the time interval between multiple ball shots. However, if the ball is shot slowly, the time interval would be increased automatically. You can adjust the robot's height up to four levels at your convenience.
This robot also features a wired control box that actually depicts the current information about the robot, such as the set speed, frequency, spin type, and location as well. Along with the control box, you will get a remote control to start, strop, or pause the robot. With the Butterfly Amicus ping pong robot, you will get plentiful benefits.
Pros
Accurate control over everything

You can install more drills

State-of-the-art design

Shoots balls with intervals

Can throw up to 120 balls per minute
Cons
Its head does not move

This could be a pretty pricey machine ever
Newgy Jr Pro Robo-Pong Robot – DIY Ping Pong Robot
Machine S101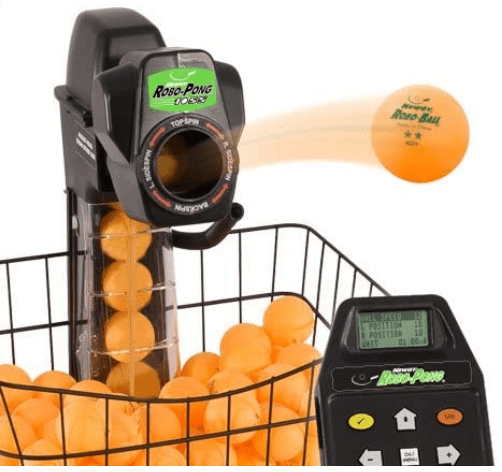 So our eventual product on the list is the Newgy Robo-pong table tennis machine that is a special pick for those who seek the most reliable and ideal product. This model is tremendously easy to install and operate that can accommodate up to 200 balls at one time.
This product offers a variety of spins and shots such as counter shot, fast loop, serve, chop, and much more. The Newgy ping pong robot can be controlled manually for the frequency, speed, and oscillation of the ball to meet your playing desires.
It comes in a compact design so that you could quickly move it with you. It also delivers different spin styles like topspin, sidespin, underspin, etc. generally, this DIY ping pong robot is rich in multiple features that are suitable for intermediate to expert players. Its firm building, sustainability, and a wide variety of specs will leave you with the best experience.
Pros
Inbuilt first-class recycling net

64 pre-programmed drills

Random ball spin

It fits all standard ping pong tables

Delivers multiple spins and shot styles
Buying Guide for Automatic Ping Pong Ball Launcher
When you visit the market to buy the best ping pong ball machines, several elements should be considered and kept in mind. Thus, once you determine all these aspects, it becomes effortless to make a decision and pick the most suitable product for you. The most fundamental elements include:
Speed
 You should decide how slowly or fast the robots should throw the ball. Well, it usually depends upon the level of the player; the beginners typically go for the robots that shoot balls at a slow speed. You can also choose the machines that vary in speed. These robot types are best because you can adjust their speed.
Frequency
You can regulate the frequency of the robot in almost every model. Yet, most of the models can shoot up to 80 balls per minute, and some can go beyond 100 balls. However, there's nothing to worry about; you can adjust the ball frequency along with speed as well.
Pre-Programmed Drills
Most of the robots come with pre-programmed training drills that help you enormously to shoot the ball in a sequence. Moreover, you can also opt for some ping pong machines that allow you to install and save further drills for your practice. Some of the pre-set training drills comprise some random element.
Skill Level
You should always purchase a ping pong robot as per your expertise. If you are at the initial level, you should not go for the hi-tech robots that throw professional shots. Further, it is advised to avoid table tennis machines that deliver balls with much speed and power.
Spin Range
The robots basically help you improve your spin skills; that's why different robots come with various spin variations. Some robots deliver backspin, topspin, float, and sidespin. Such robots are usually ideal for intermediate to professional players. However, if you are a beginner, you should choose a single-spin robot that offers a few options only.
Budget
At last, you should consider your budget, which is an essential part while purchasing any product. When you are going to buy a table tennis robot, it is better to compare your budget with your level. If you are an expert table tennis player, you can spend money on expensive robots to develop your skill. However, as a beginner, you should invest in something affordable. Other than that, it totally depends upon you which product you pick to improve your game.
Conclusion
I really hope that our ten best ping pong robot reviews have become helpful in choosing the most appropriate product for you. Each of the best table tennis robots has been tried before shortlisting them in order to convey the most honest words to you. However, before you move further to purchase the ideal ping pong robot, have a look at some suggestions.
For all the professional ping pong players out there, the Butterfly Amicus Prime Table Tennis Robot is the ideal ping pong machine for you because of the latest technologies it offers. This ping pong robot is the most expensive one on the list that absolutely improves your execution.
On the flip side, if you seek a table tennis robot with the maximum spin variations, then you should pick the ZXMOTO Ping Pong Robot Machine. It provides you 36 different spin styles so that you can beat every sort of spin and stand out.
For further information, head towards our most frequently asked questions.
FAQs
How does the ping pong robot play table tennis?
There are two camera features on each side of the robot that identifies the coming ping pong ball. It is similar to how a human sees an object, senses it, and reacts immediately. Likewise, the ping pong machine detects the ping pong ball, its speed, and rotation 80 times per second.
What features can I get in a ping pong robot?
The ping pong robot includes the settings to change the ball's placement, speed, and frequency. These machines can throw balls in random sequence. However, some of them come with the pre-set training drills to get a precise series.
What is the most expensive ping pong robot of all time?
Well. It is hard to answer this question, but the Butterfly Amicus Prime Table Tennis Robot is the priciest machine on the list that delivers outstanding performance.
Does a table tennis robot reliably improve my game?
Absolutely! A ping pong robot can aid you with the development of your game. If you are weak in some area in the game, you can adopt the one to improve your game.