If you are a table tennis player, but you have no space inside your home to put the ping pong table, you don't need to worry. In this situation, the outside ping pong tables should be the best choice. Although, as per the research of many experts, the outdoor ping pong tables do not provide the perfect bounce or reliability as an indoor table does, they can become a great solution to insufficient space in your home.
While hunting the best outdoor ping pong table, there is a lot to ponder. With numerous styles, sizes, types, and manufacturers, one can become confused in choosing the portable table tennis table. Thus, I have enlisted seven ping pong tables that carry high ratings and great reviews.
Moreover, I have picked each product from top-notch brands which build every piece of equipment with devotion and enthusiasm. Therefore, you can shop your favorite ping pong table outdoors to play exceptionally.
In this article, I have selected the seven top-rated outdoor ping pong tables to help you if you are looking for some solutions to get compact tables for your game to be played in your garden or garage. However, these ping pong tables reviews include critics' analyses about several features, benefits, and shortcomings so that you could decide which one suits you the best.
Joola Nova Outdoor Table Tennis Table – Best Budget Outdoor Table Tennis
JOOLA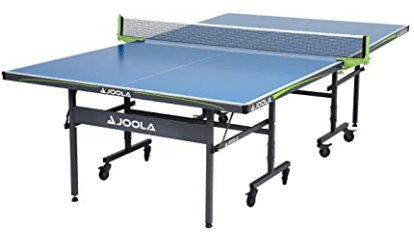 The Joola nova outdoor ping pong table embraces a six mm PVC aluminum amalgamated tabletop that is 40 mm thick. The whole table is secured with a 2-inch heavy gauge welded steel to keep the table stable while playing.
Besides, this table comprises adjustable leg levers to regulate the height of the table or to adjust it on a rough surface.
These legs are wrapped to prevent any scratches and can be folded when you are not using them.
The Joola Nova is considered one of the best outdoor table tennis tables that specifies a playback feature, which means you can put half the table to hit against. It is an outdoor table, but it can be folded and compact to keep it anywhere.
An inbuilt waterproof net with the Joola Nova outdoor table tennis table keeps the two sides of the table together. Well, this net is high-quality and protects against weather, but you may be disappointed to know that the two pieces of the table are prone to break and separate. Because if you accidentally prod the table while playing, the slips of the net would loosen or come off. However, you need to adjust the net frequently.
Its best feature is the price; this ping pong outdoor table is one of the inexpensive outdoor tables that is built with top-class material yet can be found at a competitive price. If you are an intermediate player, this table should be the perfect choice for you because it offers an incredible experience for leisure use.
Concisely, you would get an outclass ping pong table outdoor at an affordable price that would leave a fantastic experience in your table tennis game.
Related Guide: Ping Pong Table Under 200 2023
Pros
Good value ping pong table

Weather-resistant table

Adjustable legs for height

Inbuilt wheels

1-year warranty
Cons
Wheels quality is not the best

The surface is not much thicker for professionals
Stiga XTR Series Table Tennis Table – Amazon's Choice
STIGA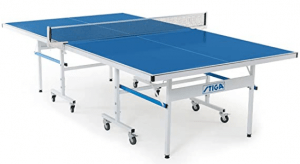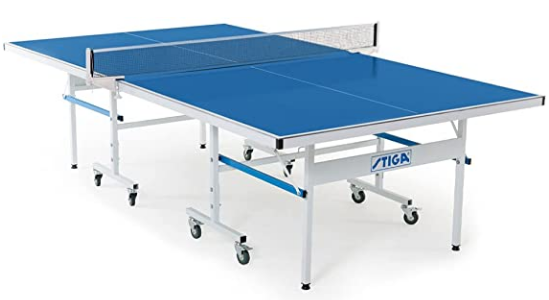 The Stiga XTR is another one of the most popular outdoor ping pong tables with pioneering construction that offers a first-class surface. Well, this table is my personal favorite since it has been getting great positive reviews on Amazon, and many people adore this product.
Moreover, it is ranked the second number on the list and offers some fantastic features.
The XTR comprises a 6mm thick tabletop constructed with plastic and aluminum materials and supported by 1.5-inch tubular steel to ensure the ball bounce.
An all-weather ping pong table prevents rusting and corrosion. You can either use it under any climate circumstances, for instance, sunlight. This table tennis table is highly durable, and its stainless steel legs can be folded and self-opened. It means while assembling the table; its legs will come out automatically. There are adjustable levers on the end of the legs to control the height for an unlevel surface or as per the player's height. Hence, you can set up the table wherever you want.
Each leg also includes a wheel to allow you to move the table anywhere without any hassle. These wheels work very smoothly and also give your table safety and consistency. Once you have moved the table, you lock these wheels to avoid the movability of the table while playing.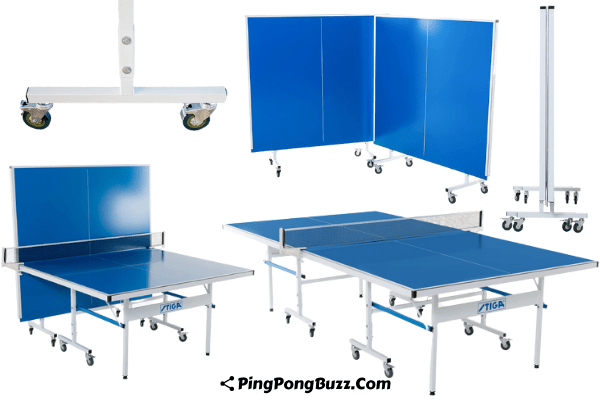 With your expectation, this best outdoor ping pong table comes with an integral net between the tables. The net is a 72-inch all-weather exterior grade that comes with a post set that enables you to regulate the stress between two ends of the net.
You would get three styles in this table tennis table at an average price. Although assemblage is required, it takes not more than 15 minutes to unfold the table and start playing. The Sweden brand Stiga has made this item incredible that suits every level of player.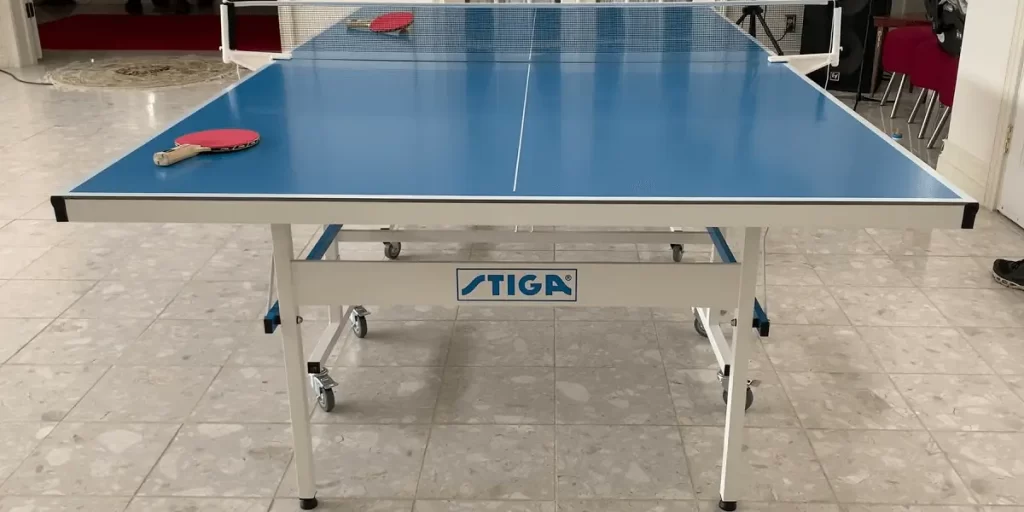 Pros
Weatherproof frame and legs.

Easy portable table

72-inch net and post set

Quick assemblage

1-year warranty
Cons
Slightly heavier

Not much thick for a perfect bounce
PRO SPIN Ping Pong Table – Best Indoor and Outdoor Ping Pong Table
PRO SPIN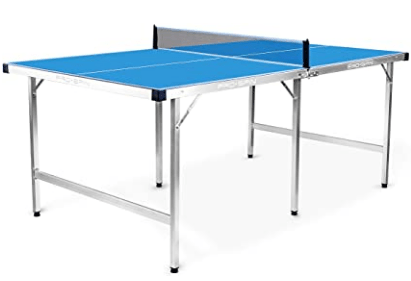 The ideal ping pong table is made specifically to use for both indoor and outdoor use. This table is a perfect choice for small apartments, offices, rooms, halls, or outdoor yards since it is mainly made for all-site use.
This ProSpin ping pong table comes in a 100% assembled form which does not require your time to make it together before starting the game.
Though it is fully assembled, you can fold the table to compact its size and place it aside.
It can set and fold easily, which would become half of its size. It can be simply stored anywhere because it would take a tiny space to be placed after folding. You can either keep it in your closet, under the bed, or anywhere in the corner to save your space.
Just like the above ping pong tables, it also comes with the ability to adjust its height. Its legs contain incorporated levelers to ensure the balanced size of the table from all sides. The dimensions for the pro sports ping pong table are 71 x 40 x 30 inches, which means it is a tremendously compact table that can be adjusted even in a small place.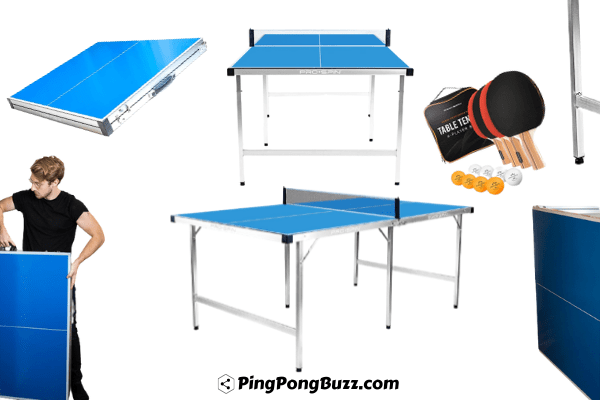 Moving towards its construction_ this top outdoor ping pong table is entirely built with aluminum. Moreover, it also comprises a net and a post system to adjust the elasticity of the net.
Pros
Pretty affordable to buy

It can be used both indoor and outdoor

It comes in assembled form

Easy to transport
GoSports Midsize Table Tennis Game Set –Best Entire Ping Pong Set
GoSports
If you play table tennis professionally and are looking for a ping pong table, look no further than the GoSports midsize table tennis. This product comes engineered with a sturdy aluminum frame that not only makes the table enduring but corrosion-free as well.
Other than the frame, its tabletop is made with plywood that absorbs all vibration and bounce of the ball. Thus, you may need to put up a little struggle to give bounce. Besides, you may find this table a little noisy while hitting the ball.
However, in order to eliminate the sound, you may insert a foam below the table. You would get the GoSports table in two vibrant shades; red and blue. Nevertheless, the building of the top of the table is supreme, which is very smooth to play with and gives an elegant bounce.
The assemblage of the table is quick. You just need to unbox the table and use it by just unfolding it. Now that you have assembled the table, you can carry it wherever you want to by just moving it through the wheels. This whole setup procedure takes only five minutes.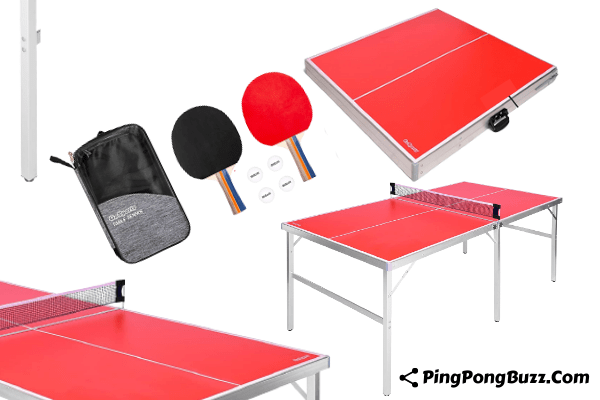 A sophisticated and tight net is also provided at the center of the table. While setting up the table, you would need to slide the metal rod over each side. However, when I was assembling the table while sliding these metal rods, I found them pretty short that barely reached a height of 6 inches.
Anyhow, with the GoSports set, you would get a high-quality ping pong table, a pair of table tennis paddles, and two pairs of ping pong balls along with the covering bag to keep the set protected.
Related Guide: Ping Pong Tables Under $300 2023
Pros
Super lightweight setup

This table does not consume much space

Easy to move

Includes a whole set of table tennis

It comes in two shades
Cons
The red color is too bright
STIGA Advantage Professional Table Tennis Tables –Best Professional Ping Pong Table
STIGA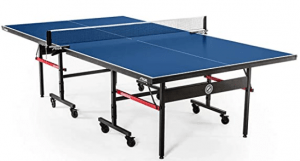 This table comes in four different designs. The Stiga Advantage professional ping pong table is relatively thicker than the conventional table tennis tables, along with larger wheels and supporting frames.
The Stiga Advantage is 16mm thick from the lower end. It means that the standard thickness of a tournament table is 25mm, so this table is slightly thinner than that.
Yet, this table can also be used professionally at home to keep it outdoors.
Getting the best outdoor ping pong tennis table with an even surface is remarkable. But it is not enough; the supports should be firm, and the frame should be built strongly. However, with the Stiga Advantage, you would get all these features.
Its legs are super solid made with stainless steel, making it one of the best weatherproof ping pong tables. These legs are 30mm long that are coated with supreme black matte powder finishing to give it a captivating appearance.
Other than a typical ping pong table, you can raise half of the table to place it in the playback position. Notwithstanding, when you put this posture on the table, you can even practice spin services and hit the ball against the elevated table side. This feature is ideal for children who practice table tennis games.
" frameborder="0" allow="accelerometer; encrypted-media; gyroscope; picture-in-picture" allowfullscreen title="zc0xF4EimIg" loading="lazy" src="//www.youtube-nocookie.com/embed/zc0xF4EimIg?controls=1&autoplay=1&enablejsapi=1&rel=1" >