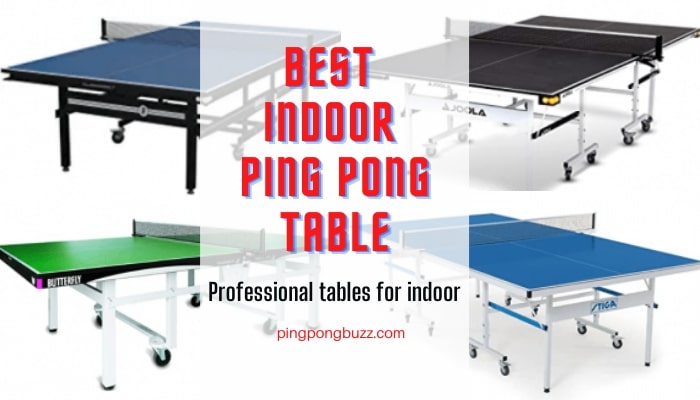 Are you a devoted table tennis player and anticipating improving your game? Well, it is best to practice to become perfect in any sport. Therefore, for practicing and playing exceptionally, you need to acquire the best equipment. Thus, if you are looking for a high-quality indoor ping pong table, you have chosen the right site.
Though both outdoor and indoor table tennis tables deliver some benefits, indoor ping pong tables are mostly recommended. Since they hold a better surface and are typically constructed with wooden material that provides excellent bounce to the ball.
Nevertheless, I have brought the ten best indoor ping pong tables to assist you with the best piece of equipment. In this review, you would be guided with each product's pros and cons so that you could make a better decision for yourself.
Check:  Top Ping Pong Tables Under 500
Top 10 Best Indoor Ping Pong Tables Reviews
| | | | | |
| --- | --- | --- | --- | --- |
| | | | | |
| | | | | Engineered Wood, Wood, Alloy Steel |
| | 25 x 63 x 64 inches | | 1 INCH | Alloy Steel |
| | 108 x 60 x 30 inches | | | Engineered Wood, Wood, Alloy Steel |
| | 108 x 60 x 30 inches | 230 Pounds | 3/4″ | Alloy Steel |
| | 63 x 57 x 4 inches | N/A | | Aluminum |
| | 108 x 60 x 30 inches | 256 Pounds | 25mm | Engineered Wood |
| | 63 x 56 x 5 inches | | 5/8" | Alloy Steel |
| | 108 x 73.75 x 36 inches | 25mm | N/A | |
| | 108 x 60 x 30 inches | 25mm | N/A | Engineered Wood |
| | 108 x 60 x 30 inches | N/A | 6feet x 3feet | Wood, Aluminum |
If you adopt an indoor table tennis table, you need to put extra care on them as compared to the outdoor ones. This is because the indoor ping pong tables are not built for outdoor use under the sun or in any weather condition. Thus you need to prevent these tables from being kept outside. Anyhow, below are the top ten indoor ping pong table reviews.
JOOLA Rally TL Indoor Tennis Table – Bets Professional MDF Ping Pong Table
Joola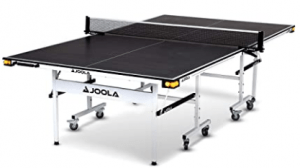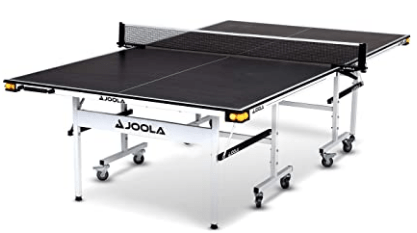 The Joola Rally TL is the perfect option for those who are looking for a pro ping pong table because it is mainly made for professional players. If you purchase this table tennis table, it would definitely become a centerpiece in your home or office.
However, this table is made with ultra-high-quality material with a sleek frame and detachable nesting halves that alter the table in a perfect size to store it compactly.
Moreover, the tabletop of this table is given in a rich charcoal black shade that makes it extremely captivating.
Besides, its corner ball holders and magnetic abacus scorers are also shaded in the same color. Nevertheless, each corner of the table can hold approximately three ping pong balls of 40mm size. The two inbuilt magnetic abacuses are attached to the table.
A remarkable table tennis table that comes with 95% assemblage and becomes ready to play within 15 minutes. Its professional medium density fiberboard grading surface produces a consistent bounce of the ball, making the entire table tremendously durable.
In addition to this, the 1.5-inch length and 1.5-inch thickness of firm steel legs are used in its building to make the table super enduring that can go long-lastingly for years. Further, the legs of this table tennis table encompass levelers to regulate the height as per the player's desire.
There are 3-inch locking caster wheels under each leg to move the table quickly, and once it is set, these wheels are locked to prevent further movability. Joola Rally TL also comprises dual-safety anti-tilting locking features to guarantee safety when the table is in a storage position.
Pros
   

95% pre-assembled

   

Original corner ball holders

   

Elegant charcoal appearance

   

Easily foldable table

   

Holds numerous features
Cons
   

The thin top does not provide great bounce
Butterfly Centrefold 25 Tennis Table – Best Tournament Table Tennis Table
Butterfly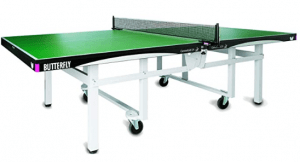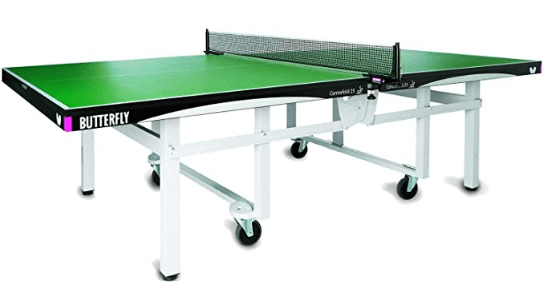 Once in a while, you must have heard of the butterfly table tennis table as one of the most popular tables amongst professionals in tournament play. Well, it is 100% true. Butterfly Centrefold 25 is one of the pretty hard-to-beat tables that have already been seen in several tournaments,
For all the matches and other professional tournaments that have been done in the United States, this table is the ideal one and has been used in some of these matches.
This sturdy indoor ping pong table carries the tabletop with a 1-inch thick scratch-proof coating in order to keep the table prevented. So, no matter how hard you play on this table, the playing surface will remain fine. However, this is a feature that is usually appreciated by many players.
Then comes its safety features; this table is made in a way that delivers maximum safety during the play. Its featured wheels are designed along with the locking feature so that the table does not move and disturb while playing. This feature also keeps the table in a stable posture.
Moreover, the Butterfly Centrefold 25 ping pong table comes in a pre-assembled form that does not take much time to set up. Well, if you play table tennis on a regular basis, consider Butterfly Centrefold 25 as the perfect option. Since it comes with assembling it, you can set it up whenever you want. Also, this foldable ping pong table can be folded within time to store it.
Pros
   

It takes no time to assemble

   

Best tournament tennis table

   

ITTF approved

   

Scratch Proof playing surface

   

Five years of warranty
Cons
   

Not designed for casual families

   

Not best for a recreational place
You can also check: Portable Ping Pong Table 2021
JOOLA Inside Tennis Table – Best Performing Ping Pong Table
JOOLA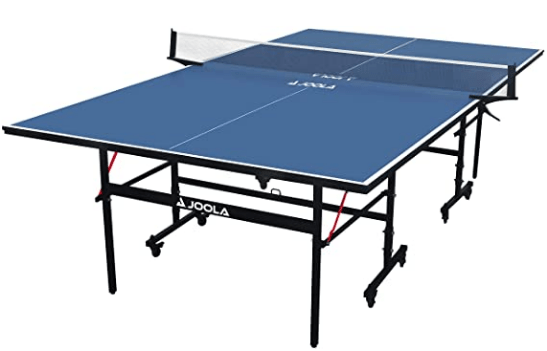 If you are seeking a table tennis table with the best construction along with a worthwhile table, then go for the Joola Inside professional MDF ping pong table. This table includes a 15mm tabletop surface. However, this table is one of the lightest tables that weighs only 189 pounds.
It means you can set it up on your own without anyone's help.
Another plus point that I personally like the most is its sturdy building. Its 1.5-inch stainless steel leg's diameter is adequately strong. Besides, these legs are then coated with a power layer to give remarkable finishing.
When you receive this table, it will come in two halves; then, you need to join them together to assemble. Its legs are adjustable with the levelers so that you could use this table no matter if the surface is smooth or not.
Additionally, the net used in this table is of premium quality that is featured on the edges of the table with the help of firm clamps. However, you can regulate these clips to adjust the tightness of the net between the tables.
Pros
   

Best value table tennis table

   

It comes in 3 sizes

   

It becomes compact when folded

   

Strong steel legs with powder coating

   

Best-selling product
Cons
   

You may find its surface a little thin

   

Its new and posts are not reliable
 STIGA Expert Roller Tennis Table – Best Portable Ping Pong Table
STIGA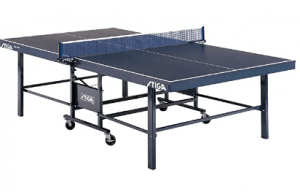 The Stiga Expert Roller is a unique product that delivers outstanding executions for group and individual games. However, it is the most expensive table tennis table available on the list. It is famous for providing great bounce and stimulates professional games at a competitive level.
Although this table is outclassing in every manner, its assemblage could be pretty hard. Usually, the Stiga expert roller portable indoor table tennis table takes probably 2 to 3 hours to get together.
Notwithstanding, its assembling requires multiple people, so it is not recommended to do it yourself.
The table provides a fantastic feeling as it glides across the floor because of the construction that comprises a 4-inch ball-bearing wheel caster on each corner of the table. This table is built with solid wood that supports a stable Euro-design framework.
This foldable ping pong table can be effortlessly folded and moved wherever you want. Another feature is the fabulous playback mode for smoothness of the surface to help bounce back the ball. Nonetheless, if you are into the practice of table tennis games, this table is also ideal for you.
Pros
   

Includes Stiga supreme quality net

   

Made with sturdy wood and steel materials

   

Fold Up playback mode

   

Provides a bounce-back feature

   

1-year warranty
Cons
   

Assemblage takes a lot of time

   

You require an extra helper to set it up
Stiga XTR Series Tennis Table – Best Indoor and Outdoor Ping Pong Table
STIGA XTR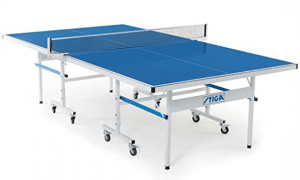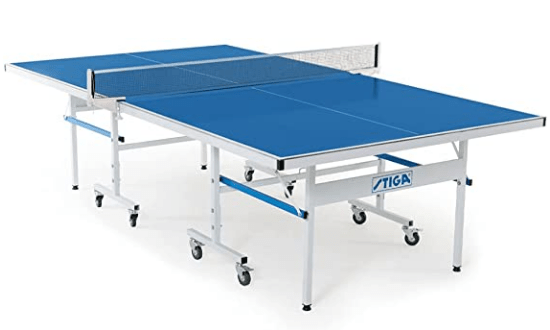 The Stiga XTR is another one of the best indoor outdoor ping pong tables with pioneering construction that offers a first-class surface. Well, this table is my personal favorite since it has been getting great positive reviews, and many people adore this product.
A weatherproof ping pong table prevents corrosion. You can either use it under any climate circumstances.
This high-quality ping pong table is highly durable, and its stainless steel legs can be folded and self-opened. It means while assembling the table; its legs will come out automatically. There are adjustable levers on the end of the legs to control the height for an unlevel surface or as per the player's height. Hence, you can set up the table wherever you want.
Moreover, the XTR comprises a 6mm thick tabletop constructed with plastic and aluminum materials and supported by 1.5-inch tubular steel to ensure the ball bounce. As per your expectation, the top-performing indoor ping pong table comes with an integral net between the tables. The net is a 72-inch all-weather exterior grade that comes with a post set that enables you to regulate the stress between two ends of the net.
Each leg also includes a wheel to allow you to move the table anywhere without any hassle. These wheels work very smoothly and also give your table safety and consistency. Once you have moved the table, you lock these wheels to avoid the movability of the table while playing.
The Sweden brand Stiga has made this item remarkable that suits every level of player. You would get three styles in this table tennis table at an average price. Although assemblage is required, it takes not more than 15 minutes to unfold the table and start playing.
Pros
   

It can be used for both indoor and outdoor games

   

It comes in sophisticated design

   

Built with first-class material

   

Waterproof ping pong table

   

Easy movability
Cons
   

Expensive to buy

   

It weighs pretty substantial
JOOLA Tour Tennis Table – Best Reasonable Price
JOOLA TOUR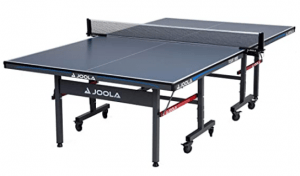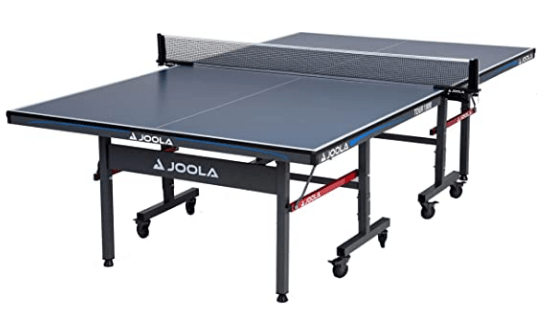 The Joola tour table tennis table comes in two sizes; 15mm and 18mm MDF playing surface and plentiful other specifications. It contains a supreme quality tabletop that holds a 1-inch thick sheet of MDF to give a solid layer.
Anyhow, if you are more into spin games, pick the Joola Tour ping pong table. Its firm playing surface is chip-resistant, which prevents the table from scratches so that you could play hard throws.
Moreover, the 1-inch thick layer enables excellent playability, and its surface offers a more consistent bounce. Besides its solid construction, the tour table tennis table provides some convenient features, including the adjustable levelers on each leg. This feature allows you to level the table's height at your convenience. Not only this, but its frames also embrace an auto-folding feature that turns the legs inside automatically and folds the table to make it compact.
Another fantastic thing about this table is it can be divided into two separate tables that can be used distinctly. However, when you join this table, it becomes a full-sized table. It becomes one of the inexpensive ping pong tables that can be purchased affordably with all these exceptional features.
Pros
   

Affordable ping pong table

   

The tabletop is firm and thick

   

Very easy to install

   

Locking casters

   

It can be used as two separate tables
Cons
   

The whole table is quite heavy

   

The net is not attached reliably
STIGA Advantage Professional Tennis Tables – Best Selling Ping Pong Table
STIGA Advantage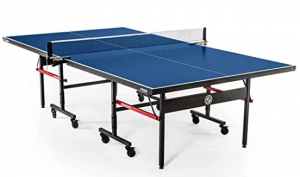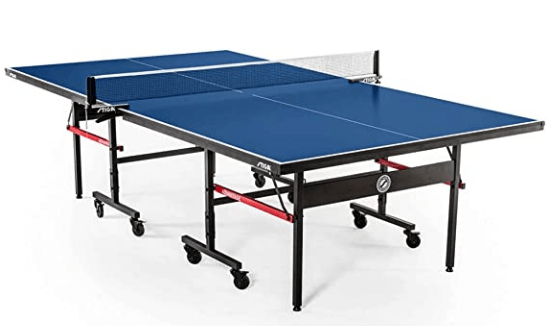 The Stiga Advantage ping pong table is 16mm thick from the lower end. It means that the standard thickness of a tournament table is 25mm, so this table is slightly thinner than that. Yet, this table can also be used professionally at home to keep it indoors.
This table comes in four different designs. The Stiga Advantage professional ping pong table is relatively thicker than the standard table tennis tables, along with larger wheels and supporting frames.
Getting the best home ping pong table with an even surface is remarkable. But it is not enough; the supports should be firm, and the frame should be built strongly. However, with the Stiga Advantage, you would get all these features.
Unlike a typical ping pong table, you can raise half of the table to place it in the playback position. Notwithstanding, when you put this posture on the table, you can even practice spin services and hit the ball against the elevated table side. This feature is ideal for children who practice table tennis games.
Its legs are super solid made with alloy steel, making it one of the incredible tables. These legs are 30mm long that are coated with supreme black matte powder finishing to give it a captivating appearance.
Pros
   

Professional-level table tennis table

   

It comes with playback mode

   

Safety latch system

   

Ultra-compact size

   

No need for assemblage
Cons
   

It weighs slightly heavier

   

Falls on the pricier side
SereneLife Durable Indoor Tennis Table – Best Long-Lasting Ping Pong Table
SERENELIFE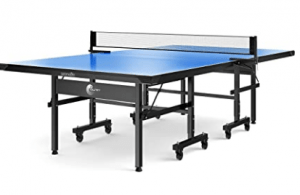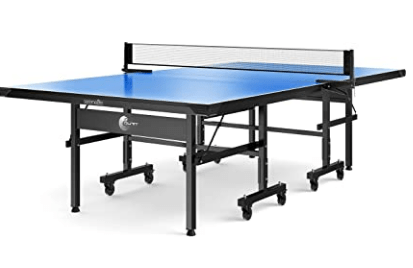 The durable ping pong table by SereneLife company is one of the home ping pong tables. This table tennis table comes with a 50% pre-assembled setup and holds a foldable design to store and travel easily.
However, beginning with its assemblage_ when you get the durable indoor ping pong table, it would come in half-assembled form; thus, you don't need to pay many struggles in its assembling.
Although it may take some time to set it up, if you do this with the help of some person, it would be done within no time. Moreover, for your convenience, this table comes with a net set that is attached to the middle of the table with the help of solid clamps. These clips aid you in attaching and detaching the net effortlessly. A playback mode is also there in this table. Since the table can be folded into its half, it could be used for individual practice. The playback mode is specifically there for those who are more into practice.
This top best indoor ping pong table is furnished with swivel wheels along with the locking casters that make it easier to move the table safely. Further, this first-class is made with quality MDF and steel materials to retain sustainability.
Coming towards the lower side of the table_ its legs are equipped with leg levelers and bumper corners to give maximum protection and stability. Hence, the SereneLife durable table tennis table is the perfect option for apartments and rooms games.
Pros
   

It comes in the half-assembled form

   

Tremendously lightweight

   

Very durable ping pong table

   

Ideal for small in-house games

   

Made with sturdy material
Cons
   

You may find it pretty expensive

   

Flat tabletop
Related: Top table tennis Tables Under 300
Joola Signature Pro Tennis Table – Best Compact Ping Pong Table
JOOLA SIGNATURE PRO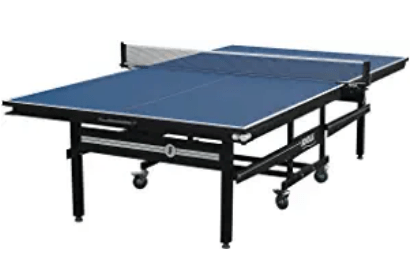 Our experts have personally tried and tested the Joola Signature Table Tennis Table and have come to an end that this table is perfect in numerous ways_ whether you are looking for an indoor ping pong table with professionalism, dimensions, execution, and appearance,
look no beyond than the Joola Signature Pro Table. It comprises steel legs that are coated with powder to make it safe from scratching. Besides, these legs contain inbuilt leg levelers.
These levelers are used to keep the floors protected from scratches and enable you to regulate the height if you play the game on a rough surface.
It is pretty much simple to store this table when it comes to its compactness and storage and does not leave its prints when it is not being used. Although it comes in two halves, that reduces the size of the table, so can even store it even in a smaller space. The dimensions of this ping pong table are 108 x 60 x 30 inches, yet it can become very compact in size, especially once it is folded. If you analyze Joola vs Stiga, you will find Joola more compact and sleek in terms of design.
This design is undoubtedly made for high durability. A sturdy undercarriage considerably supports its tabletop to bear heavy loads on the top of it. It provides sufficient space to play freely. Its 1.5-inch apron also helps in delivering consistent bounce.
As compared to other table tennis tables that provide all these specifications and excellent performance, the Joola Signature Pro Table Tennis can be bought at quite an affordable price. Another great thing about this table offers a 1-year warranty in case of some problem.
Pros
   

Very durable product that lasts for years

   

It comes with an additional safety locking system

   

Offers more significant bounce to the ball

   

It takes approximately 20 minutes to assemble

   

Offers 1-year of warranty
Cons
   

Pretty expensive to purchase

   

The steel legs are not stainless
GoSports Midsize Tennis Game Set – Best Whole Table Tennis Set
GoSports MIDSIZE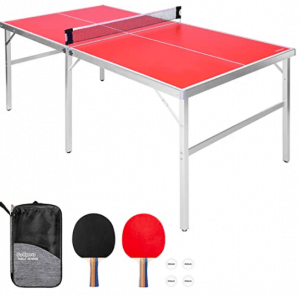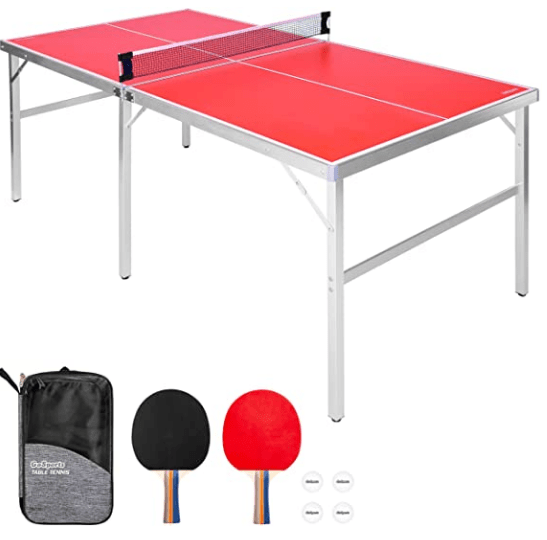 Here comes the entire ping pong set that comes along with the best indoor outdoor ping pong table, paddles, and balls. This product is engineered with a sturdy aluminum frame that not only makes the table enduring but corrosion-free as well. Thus, if you play table tennis proficiently and are looking for a ping pong table, look no further than the GoSports midsize table tennis.
You would get the GoSports table in two striking colors; blue and red. Nonetheless, the construction of the top of the table is classy, which is very smooth to play with and gives an elegant bounce.
Other than the frame, its tabletop is made with first-class plywood that absorbs all vibrations and gives a low bounce to the ball. Therefore, you may need to put up a little struggle to provide a high bounce. Further, you may find this table a little noisy while hitting the ball. However, in order to eliminate the sound, you may insert a foam below the table.
The assemblage of the table is quick. You just need to unbox the table and use it by just unfolding it. Now that you have assembled the table, you can carry it wherever you want to by just moving it through the wheels. This whole setup procedure takes only five minutes.
An elegant and tight net is also provided at the center of the table. While setting up the table, you would need to slide the metal rod over each side. However, when I was assembling the table while sliding these metal rods, I found them pretty short that barely reached a height of 6 inches.
Anyhow, with the GoSports indoor table tennis set, you would get a high-quality ping pong table, two table tennis paddles, and four ping pong balls along with the covering bag to keep the set secure.
Pros
   

It can be assembled within five minutes

   

The foldable table makes it easier to carry and move

   

Extremely lightweight

   

Easy storable

   

It comes in a compact size
Cons
   

Its lightweight can move the table quickly while playing

   

You may find its size slightly smaller than the standard size.
Factors to Consider for Buying the Best Indoor Ping Pong Table
When you go to purchase the indoor ping pong tennis table, you need to consider several aspects. Since it is crucial to ponder the comfortability of the product, therefore, you should get through some factors before purchasing your next table.
Table Thickness
An essential factor to consider is the thickness of the table while buying any ping pong table. The surface of the table should not be very thin because it will prevent the ping pong ball from bouncing. Neither should it be too thick. Yet, the thickness of the tabletop varies from 12mm to 25mm. If you are confused with the choice of the thickness, remember one thumb rule_ the thicker the table surface, the better it will be.
Movability
While considering the portability and movability of the table tennis table, there are numerous types that a table comes in. Some of the tables come in the kind that can be folded and moved. However, this table can be easily folded and assembled again before starting the game.
Then there are some tables that can be disassembled and packed in a bag in order to move them. Besides, some tables come in already compact forms that are incredibly lightweight so that you could move them easily. You should consider which table suits you at your convenience.
Storage
As discussed in the section on movability, the storage also depends upon the size and foldability of the table. If you are looking for a table that could be stored easily, try to acquire a foldable table or a table that comes in a compact size and consumes less space.
Wheel Size
Well, it is not something that must be taken into consideration while buying the indoor ping pong table; it is still significant. If you usually play on a surface that is not even, such as on a concrete or grassy surface, then consider the big wheel size of the table, which prevents the table from moving while playing.
Notwithstanding, if the playing surface is sleek and plane, then the size of the wheel should be smaller. Bear in mind, the smaller the wheels, the easier it is to handle the table.
Budget
Eventually, you should recognize your budget. You must plan what should be the cost of the ping pong table that you are going to purchase. Though it is not mandatory that the pricier the product is, the more reliable it would be. However, if you look for some additional features in the table tennis table, the price would increase automatically. Thus, it is advised that you should not spend much on the equipment if you are a beginner.
Related: Top 10 Tables for Ping Pong 2021
Final Thoughts
Now that you have learned about the seven best indoor ping pong tables, you must have decided which table you should pick. Each of the products shortlisted is made by notable manufacturers that deliver their products to professionals and tournament clubs. Yet, if you are still muddled about the most suitable table for you, I have brought out top picks for you.
Whether you are a professional or casual table tennis player, the JOOLA Rally TL Indoor Table Tennis Table should be best for you. This indoor ping pong table is perfect in every way. If you are looking for a table with pronounced performance, attractive appearance, and good value, then go for this option.
On the other hand, if you want a table that could be used for both indoor and outdoor use, then pick the Stiga XTR Series Table Tennis Table. This table is weatherproof and compact in size, so it could be used for both purposes.
FAQs
Can I Use an Indoor Ping Pong Table Outdoor?
You need to adopt a separate ping pong table that is explicitly made for outdoor use. Since indoor tables are not made to prevent weather conditions or sunlight, they may get damaged outdoors. However, you can also pick an indoor outdoor ping pong table.
Can I make an indoor ping pong table waterproof?
Yes! You can make your indoor ping pong table waterproof by coating it with a polyurethane sealer. It will seal the entire table and would help prevent moisture and rust.
Which indoor ping pong table is the best, Joola or Stiga?
Both Joola vs. Stiga ping pong tables are popular for their excellent quality and implausible execution. Although both indoor ping pong tables contain a 15mm MDF playing surface, the Stiga Advantage offers a more consistent bounce than the Joola, yet it costs higher as well.
How to choose the best indoor ping pong table?
There are various factors that should be taken into consideration. These factors include ease of assemblage, portability, playing surface, bounce consistency, and durability. You can consider these elements to buy an ideal product for you.