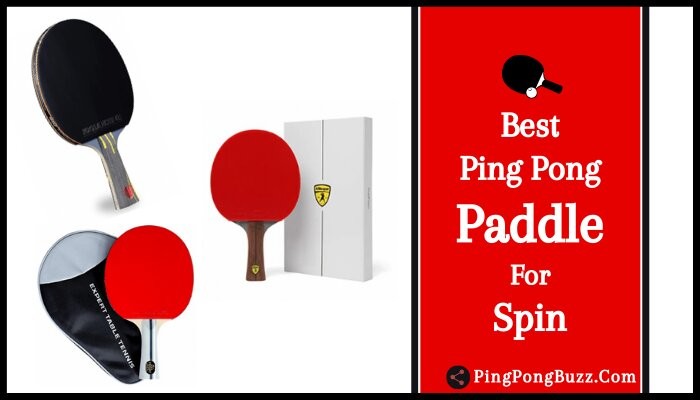 There are countless people who try to develop their ping pong skills to become more skillful in the table tennis game. However, practice makes a man perfect and is a crucial part in order to become proficient. But still, you should never overlook the equipment you use. Since the robustness, weight, and material of your paddle impact the speed, spin, and control of the ball drastically.
Notwithstanding, to get immense power and control, you need to get the best table tennis racket for spin and speed. If you know about your playing style, it becomes easier to identify which spin ping pong paddle suits you the most. For instance, Xu Xin is best known for his Traditional Penhold Style; he opted most of his rackets from Stiga Sports and astonished the world with his performance.
But, how can you explore the best table tennis bats for you? Thus, I have brought the top 7 best ping pong paddles for spin along with several benefits and shortcomings, so that you could make an appropriate choice for yourself and enhance your game.
Picking an ideal ping pong bat might become complicated if you could not determine your playing style. However, before purchasing, it is essential to understand which paddle proves to be perfect for you. Also, you should not invest in something that does not meet your requirements. Therefore, get through our shortlisted products and get the best experience.
Killerspin Jet800 Speed N1 Ping Pong Paddle – Editor's Choice
Killerspin JET 800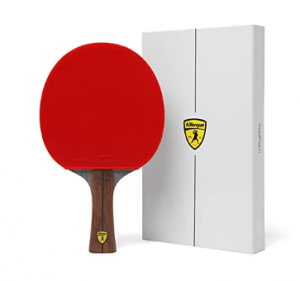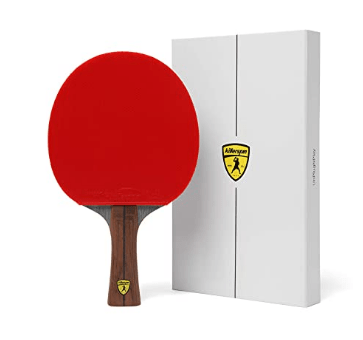 This Killerspin ping pong paddle is an advanced-level racket approved by ITTF and is a well-known model by many professionals. In addition, many renowned players have been using this model for years, which means it is a worthy product that delivers remarkable performance.
The jet 800 is made with five layers of wood in order to make it durable. Moreover, two layers of carbon fiber are added between these layers that prevent the paddle from getting heavier.
These seven layers allow you to make offensive and aggressive shots in a spinning style.
Although it is a seven-layered paddle, it weighs 190 grams only. It can be said that this falls between the lightweight and heavyweight models. However, if you use the Killerspin jet 800 model for hours, your arm may feel slightly tired.
Moving towards the blade of this one of the best table tennis paddles for spin_ with more layers in its design offers more power and speed. It shows a rate of 9.5 out of 10, which means you can produce a lot of control with this racket.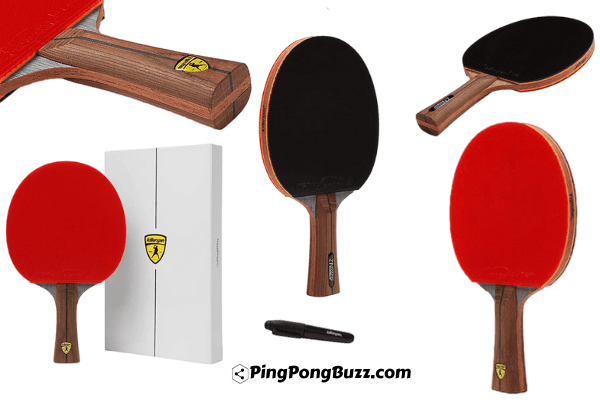 Additionally, it uses two Nitrx-4Z rubber sheets that are 2.0 mm deep and high tension; it means it produces more speed and prevents the ball from sinking into the sponge and rubber. This increased tension also causes the ball to bounce quickly with the racket to make more aggressive shots. With the jet 800, you'll be able to generate heavy spins.
In short, the Killerspin Jet 800 is one of the most excellent power rating paddles that can be used for aggressive shots, heavy spins, and superior control. This model is a lot of professionals' favorite and has been used by them in tournament plays. Therefore, you can purchase it with closed eyes.
Related Guide: Best Ping Pong Paddles Under $50
Pros
Seven-layered design

Offers violent shots

Portable size

Superior construction

Comes along with a memory book
Cons
Pretty expensive

Some may find its handle small
Nibiru Sports Ping Pong Paddle Set – Best Selling Racquets
Nibiru Sports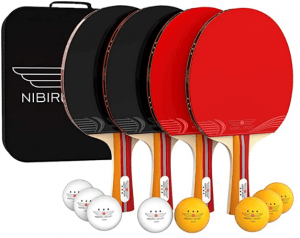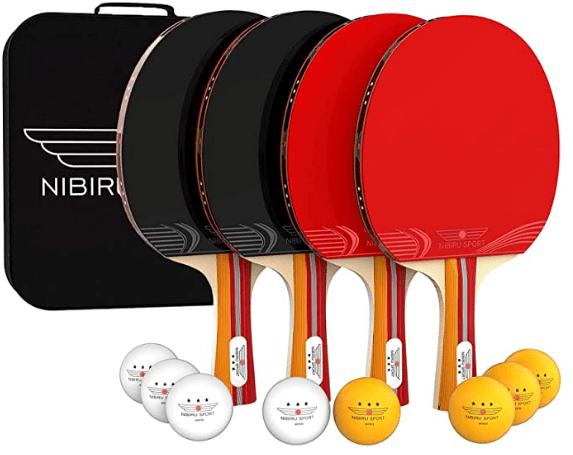 Nibiru is a popular sports store that is known for delivering high-quality table tennis equipment. However, this ping pong paddle set by Nibiru company offers all things you're seeking to improve your game. This set comes with multiple pieces of equipment, which includes three pairs of star balls, two pairs of rackets, and a portable storage case.
If your primary concern is durability, then look no beyond the Nibiru Sports ping pong paddle set because it features a rubberized design that makes it more enduring than other conventional paddles.
Besides, this rubber helps you hold its grip more easily.
Whether you are an initial or a pro-level player, this set is perfect for everyone. It is considered the best table tennis racket for spin, which improves your game, and provides resilient grip.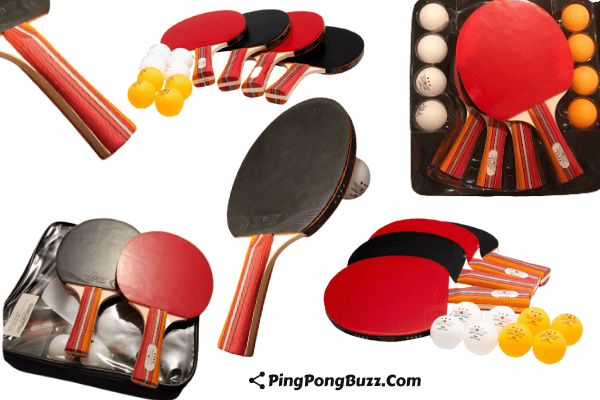 Now moving towards its construction_ this entire set of paddles is built with superior quality wooden material that is coated with rubber at the base. Nibiru always prioritizes endurance and makes sure to deliver the most durable product to the consumers. Moreover, the ball that comes along with. It is interiorized with a soft sponge. Yet, the outer layer is covered with rubber material to give considerable bounce on the table.
This set is excellent for those who look for a multiplayer game because it offers four players the opportunity to play with each other. Furthermore, it carries four rackets and six balls in various shades; Two of the paddles are black, and the remaining two are red.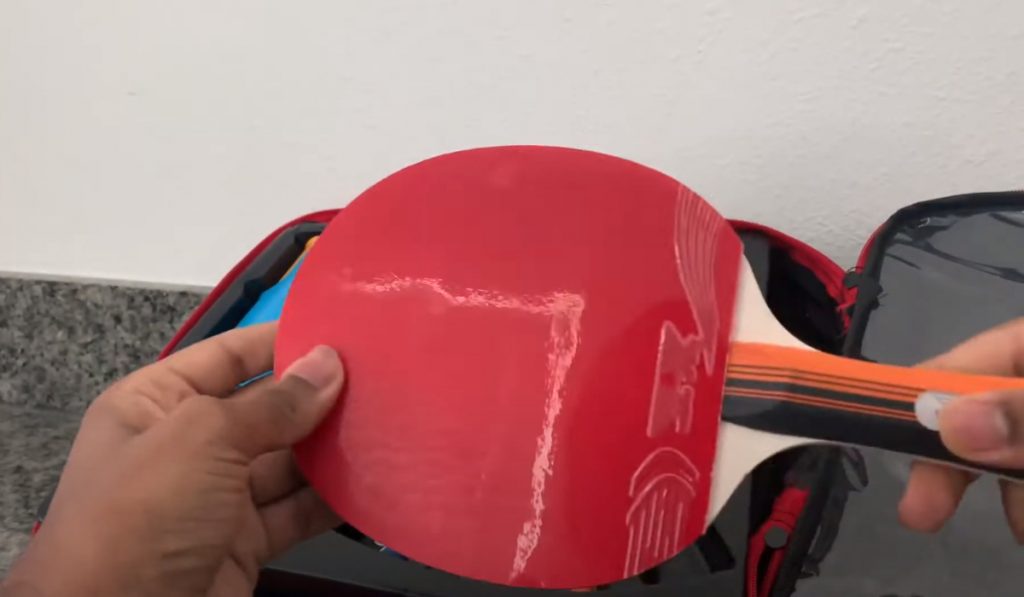 A storage case is also in the kit that features a zipper closure to keep your set protected. Other than that, you would get a portable net as well. With the help of this net, you can convert any ordinary table into a tennis table_ this net can be attached easily through clips.
If you want to play within your private space, this set comprises all accessories that can fit any sort of table and can be played both indoor and outdoor. So no matter whether you want to buy a table tennis set for your child or yourself, this is the best racket for spin and is ideal for both children and adults.
Pros
Compact and lightweight

Comprises multiple sets of paddles and balls

Rubberized grip and ball

It can be played by multiplayer

Storage bag and net included
Cons
Limited color variation

The rubberized grip may become sticky with time
Sports Game Pro Ping Pong Paddle – Best for beginners
Sport Game Pro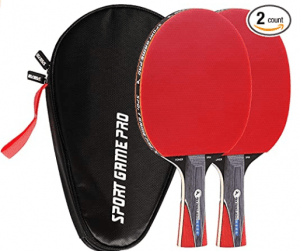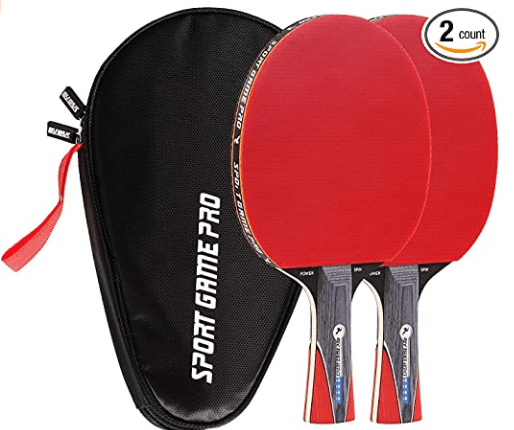 This is one of the incredible pingpong bats that is considered the best paddle for beginners. This entry-level model is also perfect for those who do not play table tennis professionally yet recreationally because it can improve most of your skills at an affordable price.
With the sports game pro ping pong paddle, you would be able to get control over the speed and spin of the ball. Since it offers more aggressive performance, you don't need to look other than this model.
As a ping pong crazy fan, I use these ping pong paddles to play games on weekends.
However, ITTF did not approve this paddle because it is only suitable for beginners yet private level players. This model cannot be used in professional tournaments because its color may come off.
Talking about the construction and structure, it is engineered with a dovetail handle and a five-ply pure wood blade. This makes the overall paddles extremely comfortable to hold and helps you with considerable control. In order to provide you spin and speed, a 2mm rubber is inbuilt on the top of the 2mm sponges that absorb all the forces coming from the opposite side and deliver fast service.
Besides, if you are a beginner, this paddle should be ideal for you. You can learn plenty of modes and styles in this game. Nevertheless, you may find its two sides pretty different, which may confuse you about handling the paddle. Yet, if your playing style is penhold, this model may suit you.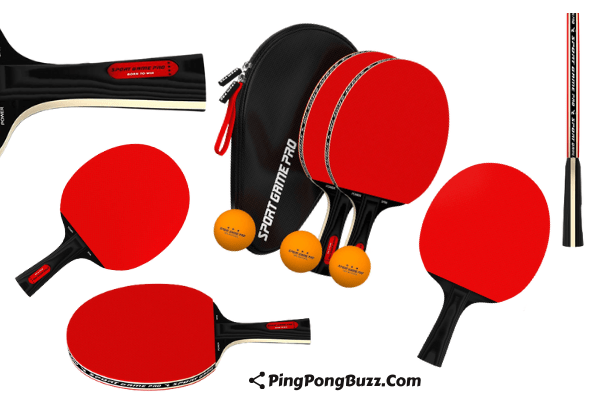 You would discover its finishing in a pretty satisfactory way. The colored rubberized grip may become sticky with time, but this model is relatively smooth and works best for complex performance by the opponent. This paddle is a gift for you for hard hits.
In addition to this, if you are looking for a ping pong paddle for you as a beginner or any other player at an initial stage, this Killerspin ping paddle is best to learn speed, spin, and control hard hits.
Related Guide: Ping Pong Paddle Under $100 2023
Pros
Comfortable to handle hard hits

Best for beginners

Comfy handle to hold

Two sides can be used for different styles

Handles fast service easily
Cons
Not best for professional tournament plays

Two sides may be confusing
ProSpin Ping Pong Paddle – Carbon Fiber Table tennis Paddle
ProSpin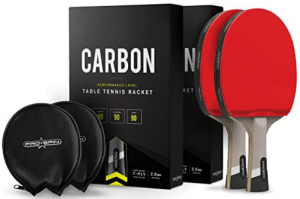 The pro spin ping pong paddle is another trustworthy table tennis racket for the spin that is a fantastic option for those who look for a new generation of carbon fiber models. Since if carbon fiber is inbuilt between the layers of the paddle, it makes the model lighter in weight and absorbs less energy.
Further, the pro spin ping pong paddle is constructed with first-class materials selected in a natural way to make the model lightweight.
If you notice this model closely, you will find a durable rubber on the top of the 2mm sponge to deliver tremendous grip to your hands.
Moreover, the enclosure of carbon fiber layered between the design enhances the flexibility while playing. Concerning weight_ since it is made with all-natural materials, it weighs 180 grams only. Yet, it is arguably much lighter in weight than other paddles available in the market.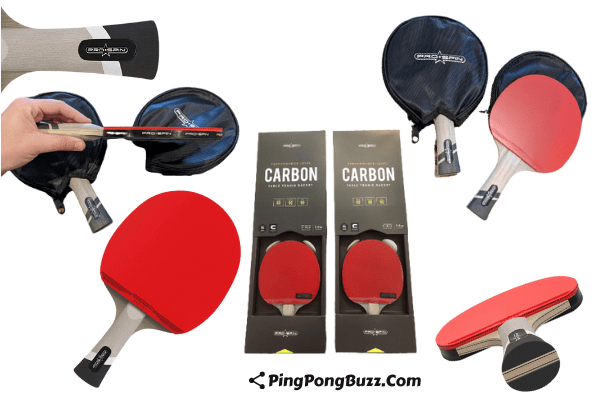 Along with this paddle, you will get a storage case free of cost. This case protects your model so that you could take your kit anywhere under any weather condition. Besides, you can get an exclusive offer if you are looking for multiplayer paddles, you can get it in the pack of two or four at an affordable price. Therefore, it is popular as the best ping pong paddle for spin.
Pros
Best to improve the game

Made with lightweight natural materials

Inbuilt carbon fiber between the designs

Offers an exclusive set of two and four

1-year warranty
Cons
Rubber may lose its tackiness

Relatively less durable
Joola Infinity Overdrive Racquets for Professional
Joola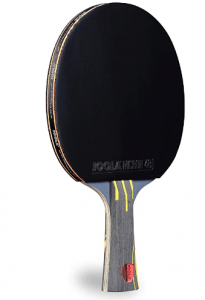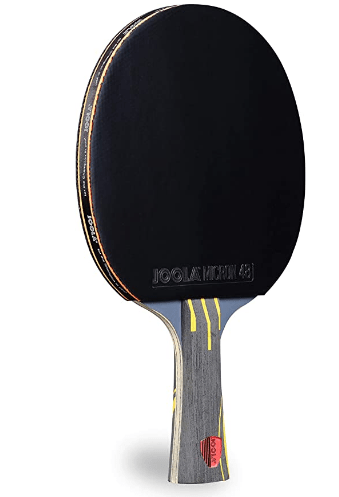 Joola is a well-recognized company that is known for conveying premium-class ping pong equipment. Whether it is a ping pong ball, table tennis net, or racket, Joola has always sustained the practice of sending high-quality products to its customers.
Well, the Jolla infinity overdrive ping pong paddle also stands conspicuously in the market and is perhaps the most expensive item available on the list. However, it is pretty pricey but is a worthwhile product. After trying this product, no uncertainty is left in this model.
It delivers a fabulous execution that is incomparable with its prior models. Since its blade is made with 5-ply wood and the design features the carbon fibers between the layers that make it super lightweight. One of my friends has this ping pong set and he is extremely happy with its performance.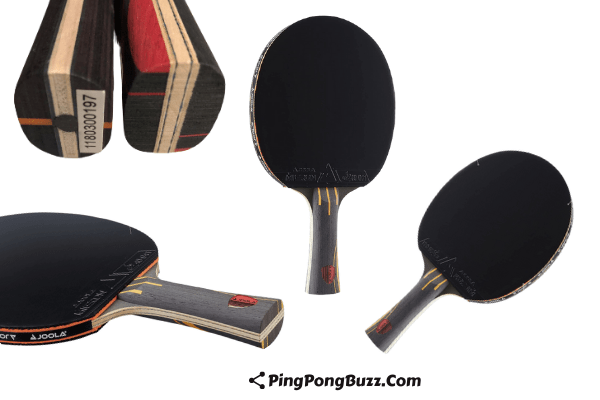 It is one of the most enduring models that improve your table tennis skills. The mixture of multiple materials during the construction of this paddle has brought the ability to absorb the vibrations during the hit and perform calmly. Moreover, it proposed the player spin and controlled the ball with adequate power on display.
The design of this ping pong bat is built in a high-tech manner that is tested after construction. It not only performs great but provides a farfetched feel. Its grip also impressed me a lot. The sweat-proof grip prevents slipperiness and sustains friction so that you could hold it for an extended period.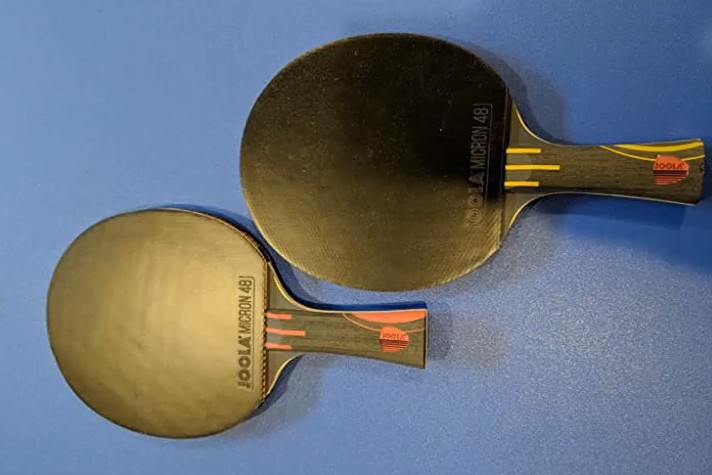 If you play table tennis professionally, you won't be able to find another ping pong paddle that delivers a similar execution, captivating appearance, and pioneering features. Overall performance-wise, this model is just fantastic.
Pros
Sophisticated ping pong paddle

Best for professionals

Large sweet spot

Incredible spin and speed

Frictional grip
Cons
You may feel a strong chemical smell at first

Pretty expensive
Palio Expert 3.0 Ping Pong Bat – Amazon's Choice
Palio Expert 3.0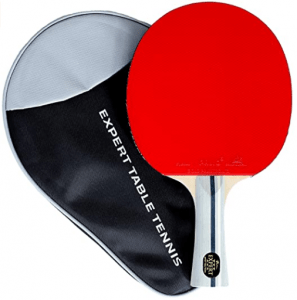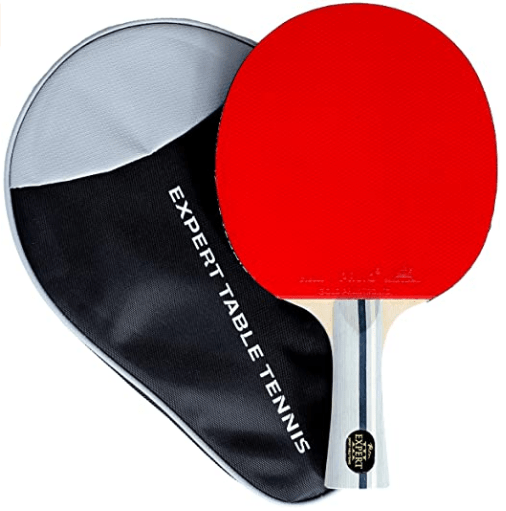 The Palio Expert 3.2 model is far better than its previous 2.0 model because its blade is redesigned with pure wood material that brings more power and extra feel. Besides, there are tacky rubbers coated on the grip that maintains the clasp and helps generate high speed with spin.
The soft rubberized grip develops the executing time with more control. It gives an amazing balance between the power and speed that aids both initial and advanced-level players.
Hence, no matter which level player you are, this table tennis bat is an all-rounder.
For players who use it seems challenging to play several strokes, Palio expert 3.0 assists them a lot. I have observed that many beginners find it hard to understand these strokes, yet you can play strokes using this paddle easily if you are one of them.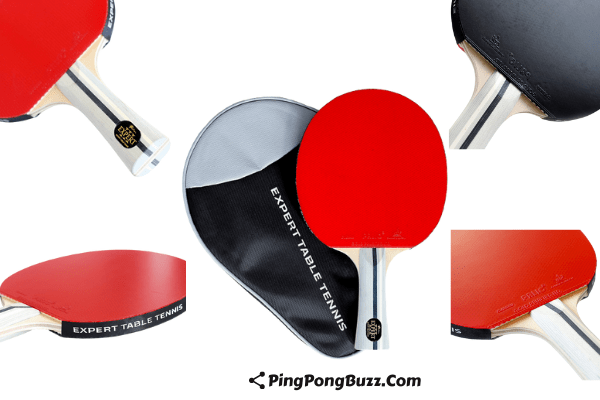 Its amazingly designed blades and handle help you hit the ball with great speed, but you would be able to control its speed. However, as an intermediate or beginner level player, you need to keep the speed slow. The reason is to help you learn more about the controllability of the ball and hit back with the same accuracy.
Once you get this product, you would get a storage cover along with it. This model is ITTF approved and is made with 100% natural materials custom-made, making it the best ping pong paddle for spin.
Related Guide: Best Ping Pong Paddle for Beginners
Pros
Affordable paddle

Replaceable rubberized grip

Provides a balance between speed and control

Efficient for beginners

Wide edge
Cons
Sticky rubber needs often cleaning
JP WinLook Ping Pong Paddle – Budget-Friendly Table tennis Rackets
JP WinLook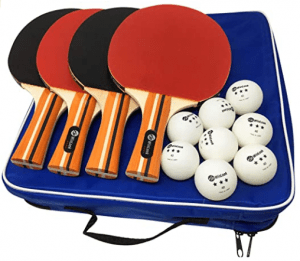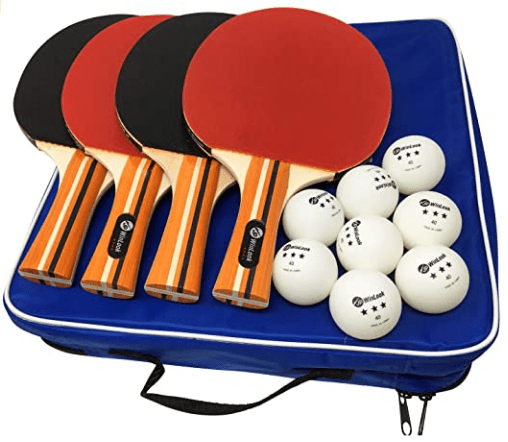 Here comes another ping pong paddle set that is manufactured by one of the popular companies, JP WinLook. This company provides all table tennis accessories that are built using premium materials. This set includes four paddles, six ping pong balls, and a storage bag to keep all things safe.
This brand is the one that is trusted blindly; this is because the owner of this company is himself a table tennis professional who knows every requirement of each feature.
This pack is undoubtedly made of all superior materials. The handles are made with plywood to deliver an outstanding balance between control, speed, power, and spin. Its handles are very comfortable and can be used for long sessions.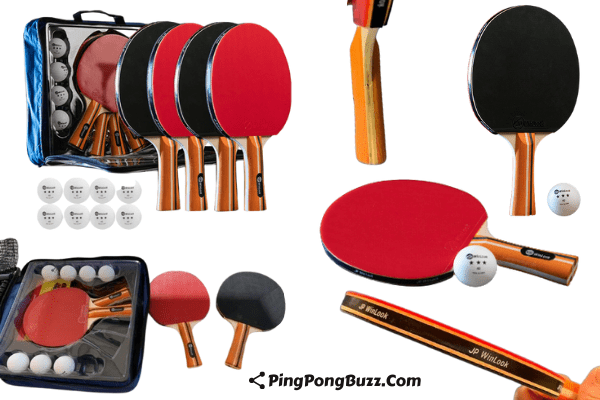 Above and beyond, each paddle is eco-friendly, and natural rubber sheets are used that provide you an improved bounce. Many players are concerned about losing the rubberized sheets, but you don't need to because it uses high-quality natural rubber that lasts longer than the conventional paddle rubbers.
" frameborder="0" allow="accelerometer; encrypted-media; gyroscope; picture-in-picture" allowfullscreen title="6lOlNvECN_w" loading="lazy" src="//www.youtube-nocookie.com/embed/6lOlNvECN_w?controls=1&autoplay=1&enablejsapi=1&rel=1" >