Have you just decided to start playing ping pong yet in an affordable way? Well, ping pong is considered one of the cheapest games that can be played both inside and outside. It involves striking a ball on the table using a ping pong bat, which is known as a paddle. Although it is an inexpensive game, you may spend a lot of money when it comes to purchasing every piece of equipment separately.
Therefore, I have brought the ten best ping pong paddles under $50 to help you attain each part of ping pong reasonably. Well, each product costs not more than 50 dollars, but it doesn't mean they are not high-quality. Each product has been enlisted by testing them personally.
Since table tennis requires three basic things: a ping pong ball, a paddle, and a table; thus, you pick every part wisely. In this article, you will be going through the ten best cheap ping pong paddles to aid you in accomplishing your goals without wasting your money. In each product review, I have shared my experience with you and suggest which one you should pick.
JP WinLook Ping Pong Paddle – Spin Shot Table Tennis Bat
JP WinLook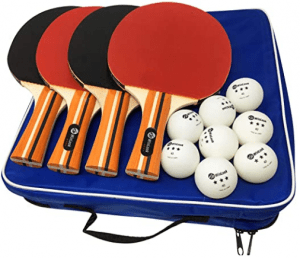 The winning JP WinLook table tennis paddle is a professional racket that comes in an overall set along with a carrying bag to move it anywhere with you. This expert-level paddle can be used both outside and inside.
However, if you are looking for an affordable ping pong bat through which you practice and use it for your tournament, go for the JP WinLook paddle. About a year ago, I opted for this bat to restart practicing table tennis, and it actually helped a lot in regaining my performance since I had left the game for a few years. Anyhow, I used the same paddle for my contest as well.
This paddle is designed by taking the idea of the World's three best table tennis champions; thus, it delivers an outstanding execution.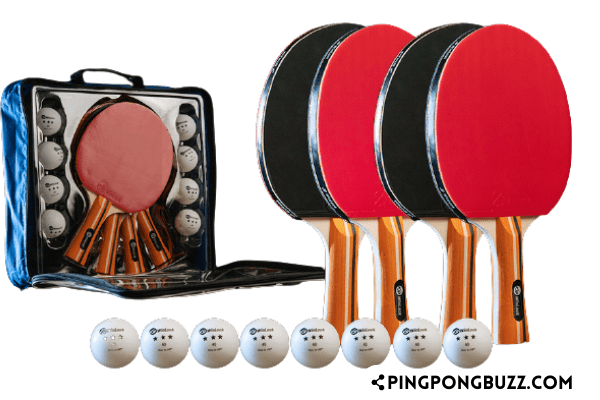 The brand itself is the most renowned ping pong market because its owner was a table tennis professional player. Thus, he knows what is required to get the best performance. This set is certainly made of all premium materials.
Its handles are made with plywood to deliver an outstanding balance between control, speed, power, and spin. Its handles are very comfortable and can be used for long sessions. Besides, each paddle is eco-friendly, and natural rubber sheets are used that provide you with an enhanced bounce on the table.
Notwithstanding, many players are worried about losing the rubberized sheets, but you don't need to because it uses first-class ping pong paddle rubber that lasts longer than the customary paddle rubbers. When you buy the JP WinLook ping pong paddles and balls, it means you have invested in a trustworthy product.
However, if you look for a multiplayer pack that could be bought in an affordable way, this is the best option for you. Not only this, you would get a 30-days money-back guarantee and a 1-year warranty in case of any issue.
Pros
It optimizes your game

Best paddle for spin shots

It comes with a textured grip to hold it easily

Handles are very comfortable

Offers a 1-year warranty and 30-days money-back guarantee
Cons
Beginners may find this paddle too heavy

You need to learn it before using
Franklin Sports Table Tennis Racket Set – Best Cheap Ping Pong Paddle Set
Franklin Sports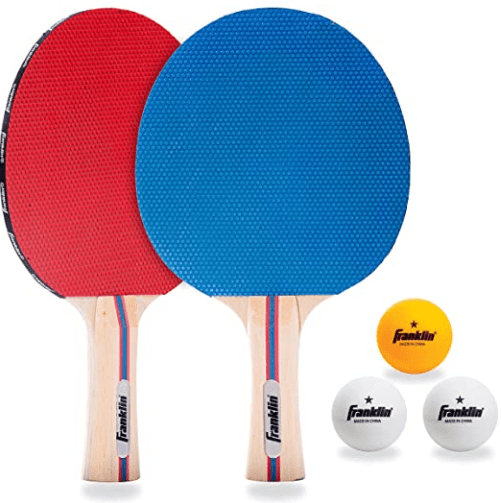 What could be a great deal that you get an entire ping pong set under $10? The Franklin Sports ping pong paddle comes with three balls and a pair of rackets at the lowest price on the list. This set holds the most crucial parts, i.e., the finest two paddles and the best ping pong balls. These ping pong paddles are not ordinary, yet they include the shielding net with the post.
These pebbled rubber paddles provide you with the versatile spin and speed for a perfect performance. You don't need to sacrifice your best execution in order to get cheap ping pong paddles. Not only this, but you will also get a mesh carrying bag to keep your stuff inside and move.

The whole set is very durable and is designed with captivating shades and standard-colored ping pong balls. It is manufactured amazingly to ensure simplicity, perfection, and performance. With the Franklin table tennis paddle, you will get numerous benefits if you are concerned with the budget and quality.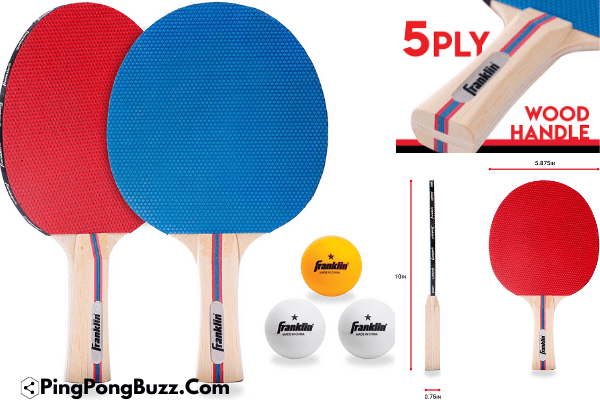 If you want to gift a table tennis racket, this should be the best option. Approximately, players of any age can acquire this set and use it. It comes in a very compact size because you can just put everything in the bag and store it. From budget to excellence, it meets all requirements.
Related Guide: Best Ping Pong Paddle Under $100 2023
Pros
The design is versatile and simple

It includes the best

ping pong paddles and balls

Extremely affordable set

The set is for two players

Its handle is made with 5-plywood
Cons
The rubber tends to lose with time
Abco Tech Ping Pong Set – Recreational Table Tennis Paddle
Abco Tech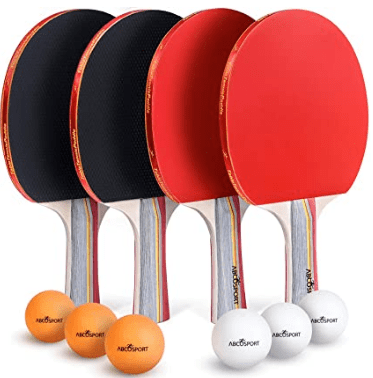 While searching for the best ping pong paddles under 50, many people suggested trying the Abco Tech table tennis set at least once. I gave it a try and really appreciate everything about this paddle. The first thing that excited me was its 15k+ reviews. It is the perfect choice for excellence, price, execution, manufacturing, and appearance as well.
This professional-level ping pong racket contains two pairs of paddles and three pairs of white and orange high-quality balls. When you play ping pong, the first thing you notice is the comfortability of the grip. The Abco Tech table tennis bats have a wide ergonomic grip from the base and taper towards the blade.
The design of the paddle looks really appealing while playing the game. Each side of the paddle is red and black that provides a professional appearance. Its handles are made with wood and coated with high-quality rubber in order to prevent it from slipperiness. Other than that, the paddles grips are not left plain, but they are oriented with colorful vertical lines to make them more attractive during the play.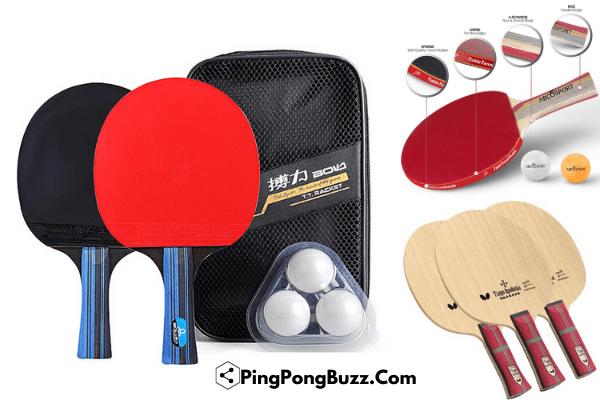 Generally, the quality of this ping pong set is excellent. When I tried this paddle, it provided me with a great feel. It felt like the paddle is being played itself because it is incredibly lightweight that helps you make spin shots easily. All parts of this set are made with 3-sat materials. No matter what your level is, this racket is ideal for beginner to professional players.
Pros
Textured rubber blades provide great spin and speed

This paddle is effortless to control

Its grips are also designed to make the racket attractive

Top-class construction

Best for initial to advanced-level players
Cons
The wooden handles may cause chips

Rubber may peel off
Idoraz Table Tennis Professional Racket – Top Ping Pong Paddles for Tournaments
Idoraz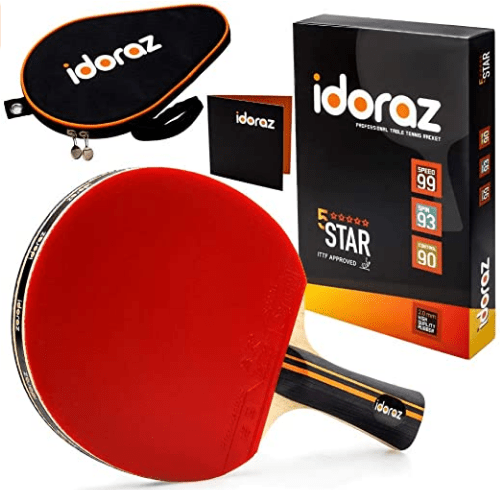 The Idoraz is an all-featured table tennis racket that makes it an excellent model and includes some most unique specs. It helps improve your game with its superior thick rubber that is approved by the ITTF.
It is known as a spin-leading table tennis racket because its spin rate is 93, which can be enjoyed for longer hours. If you play violent shots and want to throw offensive shots at your opponent, go for this table tennis racket. Its spin, speed, and structure support offensive games.
Idoraz table tennis paddle is considered one of the best quality ping pong paddles, which is perfect for those who want a table tennis racket for accurate control and quick shots. Though this paddle can be bought for under $50, you may find it pretty expensive because you will only get one paddle at this price. However, if you seek a pair of paddles for two players, you would be able to get the same model in a pack of two.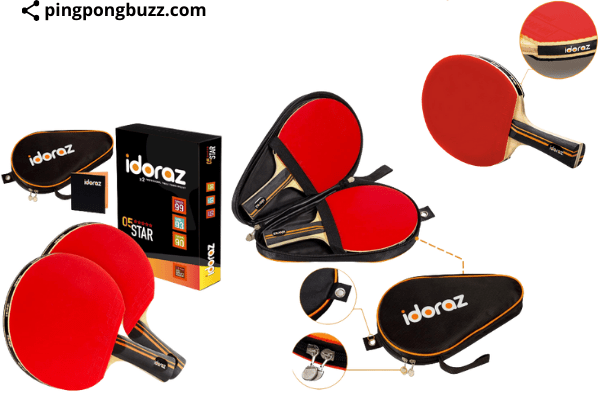 A conspicuous feature in this paddle is the controllability that has the perfect control. You can easily control the fast shots with this racket. This paddle is made specifically for those who are new to this play. Its 2 mm thick blade helps you with outstanding controllability and delivers precise shots.
" frameborder="0" allow="accelerometer; encrypted-media; gyroscope; picture-in-picture" allowfullscreen title="NhA_EEGBVsE" loading="lazy" src="//www.youtube-nocookie.com/embed/NhA_EEGBVsE?controls=1&autoplay=1&enablejsapi=1&rel=1" >