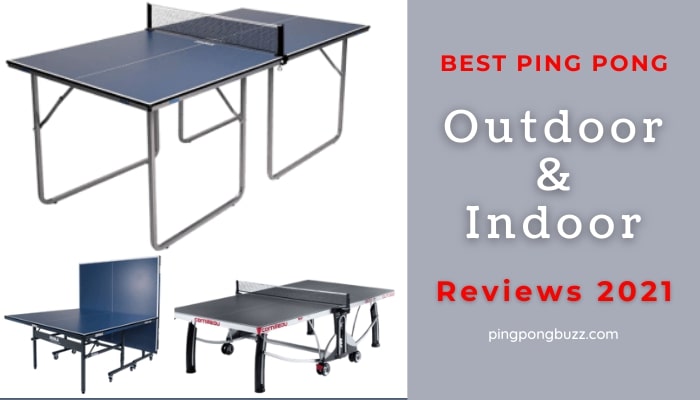 Greeting to another blog post, Today I shall be reviewing the best ping pong tables in 2021. It was a time when books were arranged on the table to play the role of net in the game called Ping Pong. Luckily, players no longer need to do so because people in the industry of sports have been producing these tables now.
Have you ever thought after losing a match of Ping Pong, "Damn, he was good" or "It was just a bad day for me and my game"? Maybe what you thought was true but you needed to stop here for a moment and consider the chance that you might not be comfortable because of the equipment. Maybe the Ping Pong paddles you were using were not your style, or the Ping Pong table doesn't match your gaming style.
Here I have sorted out a list of the top Tables that are relatively different from each other in terms of the gaming style, place they are needed to be placed, the level of the player who is going to use them, and your budget of course. I hope you'll find a great table for your tennis after going through this list.
6 Best Indoor Ping Pong Tables for Your Money in 2021
JOOLA Tour 1800 – Best Overall
JOOLA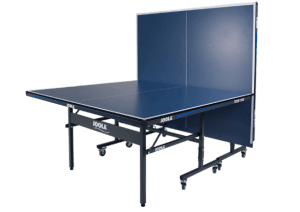 When you take a look at most suggested tables on the internet by professionals, you'll see that JOOLA knows what their responsibility in this industry is. JOOLA is producing many different types of Ping Pong tables and each of them is amazing in its aspects. As a Ping Pong Player, You and I know that the thicker the outside of the tabletop, the better bob you will get.
If you have ever used a large Ping Pong table with folding then you know how much of hassle it is to fold and unfold the table. So if you are having some storage problems or looking for a Ping Pong Table for elders or Children then JOOLA Tour 1800 may be your best choice.
But it doesn't mean that JOOLA Tour 1800 is not for young Professional Players. It has a solid structure and a durable surface. Most of the people who play Ping Pong for leisure recommend this as the best table and of course, I agree, that's why JOOLA Tour 180 is on the top of my list. Dimensions are 9 x 5 feet. Assembly time is 10 minutes (Comes 95% ready to go). The surface is 1″ (18mm) medium density fiberboard.
Pros
95% assembled, makes the set up easier
18mm playing surface
The three-inch caster helps move and lock down the table
The wheels with the table are a great addition for moving indoors
ITTF approved Rubber
Special Packing
Cons
Poor customer service.
Sometimes pads come off due to insufficient glue.
STIGA Advantage Pro-Elite Class
STIGA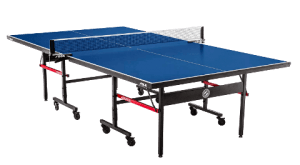 Our third choice is the STIGA Advantage Pro which is another well-known table for recreational players. It ticks some of the containers that you ought to be searching for in the best table tennis table. Its guideline size at 9 x 5 ft, is staggeringly easy to set up. The playing surface arrives in a couple of various table thicknesses.
I like the STIGA Advantage Proform which is 3/4 inch (19mm) yet you can get the standard STIGA Advantage which is somewhat less expensive however has a 5/8 inch (16mm) thick table surface.
It's made with a thick medium-thickness fiberboard that they polish off with different layers of paint to guarantee a thoroughly smooth surface for a reliable bob everywhere. Measurements are9 x 5 ft. The assembling time is 10 minutes. The surface is 3/4″ (19mm).
Pros
Comes 95% assembled to make set up simpler
professional ping pong table
It takes around 10 minutes to wrap up the table and different parts together
The three-inch casters on the base let you move the table and lock it down
Both the striping and surface on the tabletop won't blur or scratch
Works with the included net framework, which bolts on the highest point of the table
Incorporates a playback position for playing against yourself
Cons
The pivots can twist from standard use
It may not show up a level
STIGA doesn't have the best client care
JOOLA Rally TL – Professional Grade
JOOLA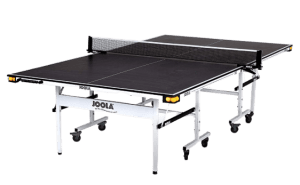 The JOOLA Rally TL like most tables comes in three diverse playing surface thickness 5/8 inch is the norm however if you can manage the cost of somewhat additional than 3/4 inch model is certainly justified, despite all the trouble. For a competition-grade table standard thickness, you can get the 1-inch thick table surface (which is the base permitted in an expert evaluation competition) for a mind-boggling bob.
The JOOLA Rally TL has a tabletop made out of a medium-thickness MDF fiberboard and has numerous layers of paint to guarantee a smooth a steady ball skip during play.
It likewise has four locking haggles levelers to keep the playing surface as level as could reasonably be expected. Measurements are 108 x 60 x 30 inches, Assembling time is10 minutes, Surface is 5/8″ (16mm).
Pros
The solid and strong form of quality
Great feel
Corner ball stockpiling
Math device Scoring System
Cons
Marginally costlier contrasted with peers
Client assistance could have been something more
Related: Top Outdoor Ping Pong tables 2021
JOOLA Inside for Garage
JOOLA
 Just like the other JOOLA tables, you can get it in 5/8, 3/4, or 1-inch top thickness. We suggest you get the 3/4 inch if you want to utilize the table in a cool manner and the full inch rendition if you are getting the table for your table social club. In any case, you will get an elite, great table that won't frustrate you.
The JOOLA Inside is a wonderful ping pong table that will mix flawlessly in any room that you place it in. The dull blue top shading is expertly coordinated by the dark iron cover and thick legs.
This is a standout amongst other watching tables out there. It is made out of solid quality materials, which make it an entirely steady and strong table. Both the 3/4 and 1-inch thicknesses offer a steady ball bob, and it is enough grip to respond to whatever turn the ball may have. This is the best table for garage, you place and play.
The main contrast is in the skip tallness which is marginally littler for the 3/4 inch. The table is worked out of two parts that can be effectively consolidated in the center. It comes for the most part pre-collected, you simply need to screw on the legs and clasp on the net and you are prepared to begin the game. You ought to be finished with the get-together in close to 10 minutes.
Pros
Fulfills the guidelines for expert and rivalry play at home
Sets up rapidly and accompanies every single required frill
Capacities as both an indoor and an open-air table tennis table
The two sides crease up to spare space when putting away in your home
Incorporates three-inch caster wheels for simple vehicle
Has 1.5-inch legs that add greater strength to the table
Cons
Get together can take longer than the maker proposes
Doesn't put a lot of turn or bob on balls
May have some unpleasant spots around the edges
JOOLA Midsize Compact for Home – Most Loved
JOOLA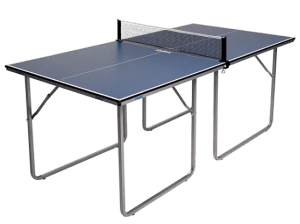 JOOLA Midsize Compact is planned with a similar quality as guideline tables with measurements of 72L x 36W x 30H inches. It's sufficiently little to fit into a medium estimated storage room or it very well may be utilized as two separate tables for different purposes.
The weight is only 62 pounds for simple moving starting with one spot then onto the next. It's sufficiently little to set up in a children's room, office, or other room in the house. The table comes completely collected and prepared to utilize directly out of the case. You should simply unfurl the legs and append the net which is remembered for the case.
This table is made of two parts that lock solidly into the right spot for an OK ball skip. The legs are pre-joined to the tabletop and unfurl rapidly for arrangement and crease up conveniently when it's a great opportunity to take care of the table. Lightweight yet solid materials went into the creation of this table to keep it simple to set up, separate, and store.
JOOLA Midsize Compact is the best table tennis table for players who are searching for a lightweight and increasingly conservative table for littler regions.
Pros
2/3rd guideline size
Extremely lightweight, only weighs 62 lbs
Little and minimal, each table half creases and can be put away without any problem
Comes with a screw brace net and post set
Cons
Not guideline size, If you're accustomed to playing full-measure tables it's disappointing
Good for easygoing games however not genuine players
Certain clients have announced missing screws
Doesn't accompany paddles or balls
STIGA Synergy Table for Small Spaces
STIGA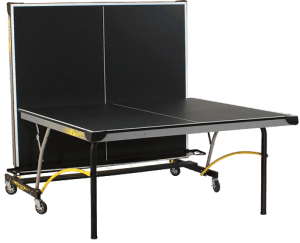 The STIGA Synergy Table Tennis Table is the reason why STIGA's is famous for making quality, proficient bore sports hardware for players. The Synergy, not at all like most models of its group has the markings on the top silkscreened rather than painted on; giving a level and smooth surface that is generally just found on increasingly costly models.
Coupling this with its 2-inch thick steel cover, the Synergy gives the valid and reliable play that is anticipated from significantly more costly units. There is likewise tender loving care on it which is unrivaled in its group.
The legs themselves open consequently when opened, which can make setting up the table from capacity a lot simpler. Too, for wellbeing, its edges have security which keeps wounds from sharp corners.
Pros
It takes 20 minutes or less to gather the table after expelling it from the crate
Incorporates a steel cover with defensive pieces around the edges
Highlights both locking casters and steel legs that overlay down from the top
Accompanies a net framework that effectively appends to the surface
You can overlap one side to make a playback
Cons
Just reasonable for indoor use and play
Get together can take longer than you anticipated
You may see a few blemishes or harm on a superficial level
8 Best Outdoor Table Tennis Reviews 2021
JOOLA NOVA – Outdoor Table Tennis 
JOOLA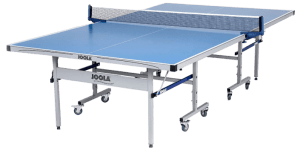 The JOOLA Nova DX is an indoor-outside and it has a 6mm thick aluminum and plastic composite surface that is twisted. It has an extremely solid steel outline (aroused) to sitting on a 30mm x 30 undercarriage that is rustproof and safe. The JOOLA Nova DX parts into two areas to make moving and putting away it simple.
You can do it all alone. You can set it in a playback position to play without a partner on the opposite side. It additionally comes with a weather-proof net set that is extremely simple to set up and isn't fiddly like certain nets we've seen.
At the point when it's packed up it is exceptionally smooth to move around like every one of the two parts has four caster wheels that lock to protect you while shipping it. Measurements are 9 x 5 feet, assembling time is15 minutes (comes 95% preassembled) and the surface is 6mm thick aluminum-plastic composite.
Pros
The net set is good for all climate conditions
The thick surface produced using aluminum
It takes only 15 minutes to assemble
Breaks into two separate parts for transport and capacity
Simple for one individual to assemble and move
Incorporates a lock framework that keeps the table in the correct position
Cons
Doesn't hold up well to players squeezing the surface
Might take you longer to assemble the table
May not function admirably in atmospheres with high temperatures or mugginess
Stiga XTR Series table for Ping Pong
STIGA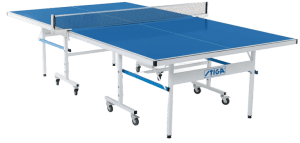 STIGA XTR is an incredible outdoor table tennis table that withstands all the compelling forces of nature. The 6mm aluminum top is made with an outside evaluation powder covering and the steel legs are made with a galvanized steel outline (powder covered with Zinc) that is waterproof, won't rust, and is impervious to the sun harm.
This makes it ideal for throughout the entire year play in all atmospheres. It's worked to oppose dampness, something that can cause even the best indoor tables to twist and lose their shape.
The tabletop is bolstered by at 1.5 inches rounded steel cover to guarantee that the bob is even over the entire table.
It's staggeringly simple to overlay away when not being used with a self-opening element that implies its steel legs consequently send when opening or shutting it. Measurements are 9 x 5 ft, assembling time 15 minutes (95% preassembled), the surface is 6mm aluminum composite surface.
Pros
Adjustable with a wide range of climate conditions
The aluminum top won't twist because of a day of downpour
Makes them open legs to handily store the table
Highlights three-inch moving caster legs that you can bolt with your foot
Has a playback choice for training meetings
Cons
Comes up short on a glare counteraction on a superficial level
Can give indications of mileage
Requires a few instruments for a get-together
Cornilleau Sport 500 M Table for Table tennis
Cornilleau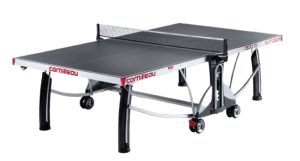 Cornilleau Sport 500M game gear is more costly than most other versatile open-air tables; however, for that cash, you get an unbelievable table. The savvy structure of the Sport 500M isn't simply constrained to its edge, however. The tabletop is a 7-millimeter thick sap overlay surface that is covered with an exceptional finish that empowers it to play like a thicker wooden surface, yet at the same time opposes open-air conditions.
This table may not be competition confirmed but still, numerous Ping Pong professionals remarked on how close this table played to a customary competition surface that may be sufficient for the drawing-room.
Pros
The 7mm cover surface has an enemy of glare covering
Its weatherproof plan withstands downpour and different components
Simple to move over your porch or yard
Had flexible legs and different parts for those in wheelchairs
Incorporates enormous wheels with an extraordinary track that can deal with any surface or ground covering
Cons
Needs better guidelines
Not as weatherproof as the maker claims
Harvil Outsider – Best Ping Pong table for the money
Harvil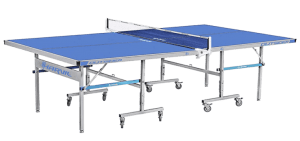 Harvil Outsider is indeed another. It sets up rapidly taking just a short way from the time that you remove it from the container. The durable wheels highlight locking components that keep them immovably set up when in play. Just open them when you need ease in transport for moving or re-situating the table.
At the point when you're done playing, the tabletop, and legs overlay, taking much less space and making it simpler to store. You can rehearse your strokes for quite a long time to get that major advantage over your companions. The tabletop is made of a strong aluminum material that is profoundly impervious to harm and erosion.
Four powder-covered steel legs hold the table safely upstanding. The top is done with lively white lines on the playing surface that layout the limits for guideline play. The steel outline is additional powder covered for quality and protection from the climate.
Pros
Incorporates a weatherproof table surface produced using aluminum
Smaller and lightweight for moving to different territories
The one-year guarantee covers every single faulty part
In-home get together is accessible for an extra expense
Highlights locking wheels that shield the table from moving
Cons
A little hole sits between the two parts
Can be difficult to close
The spread can part from presentation to the components
Kettler Ping Pong Table for Outdoor
Kettler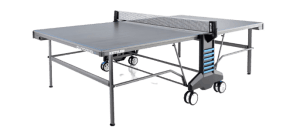 The Kettler conveys a competition quality bob that harms the opposition even if it's a high effect play; the only condition is that you must be a player of this game on this table. It is perfect for setting up at grills, campgrounds, in your lawn, or anyplace you need to appreciate a significant level meeting of table tennis.
The table has a double lock wellbeing highlight that holds it immovably set up when being used. It creases out effectively to a size of 108 L x 60 W x 30 H inches. At the point when it's a great opportunity to take care of it, it overlaps advantageously into a minimal size of 19.29 x 60 x 67 inches.
It is additionally furnished with 4.5-inch double-wheeled casters to make it simple to ship and store. The table is strikingly steady without any inclines or wobbles.
Pros
Takes around 15 minutes to assemble
Each side creases freely for quicker and simpler capacity
Premium casters for better portability
Intended for both indoor and outside use
One-year guarantee
Weather-proof
Cons
Doesn't help much in bouncing the balls
Vital pieces are often found to be missing for overseas deliveries
Killerspin needs better client support
STIGA Vapors Indoor
STIGA
The STIGA Vapor Outdoor Table is a foldable model that has been blessed to receive withstands open-air conditions. Its tough playing surface and casing are worked to withstand a ton of utilization and can be an incredible decision for the family to use for quite a long time.
The playing surface of the Vapor is an aluminum-plastic surface that has been painted. This permits the surface to oppose distorting that would happen possibly with wooden models left in the components. It doesn't give a similar skip as a wooden table and will in general play quicker with shallower bobs.
Pros
Reasonable for indoor and outside games
The aluminum surface and different parts are impervious to climate and water harm
Meets up in approximately 10 minutes with the correct apparatuses
The two sides overlay freely for simple stockpiling
The net falls off for utilizing the table for different games
Has a width of just 60 inches when collapsed
Cons
Most tables showed up at clients' homes with imprints and other harm
More qualified for open-air use than indoor play
STIGA client assistance is deficient
Butterfly

Playback Rollaway
Butterfly

Butterfly TW24B is an outdoor ping pong table, and it is structured by the best qualities of the ping pong tables that are mostly demanded by the customers. It has an interesting skip on the table, diverse from what's normally found on an indoor table. The haggles collapsing quality on the table assist you with moving the table starting with one spot then onto the next.
The establishment is simple, and it will take around 2-3 hours to get the table set up. All the table segments have conveyed all things considered, with no joining done on it. Peruse the guidelines cautiously, and comprehend the parts before you begin on the arrangement.
You will discover 4 arrangements of 5 inches twofold wheels which make the table developments smooth. Move the table on even just as lopsided grounds absent a lot of stress. Butterfly TW24B has a guaranteed time of 3 years, during which you can get the reimbursement for any item deficiency or assembling imperfection. This administration will be substantial for a long time from the date of procurement.
years, during which you can get the reimbursement for any item deficiency or assembling imperfection. This administration will be substantial for a long time from the date of procurement.
Pros
Holder for the Ping Pong Paddle and Ball
Security switches
Playback mode for solo matches
The Synthetic Laminate Top guarantees the sturdiness of the Table
Both the net and the post set included
Cornilleau 250S
Cornilleau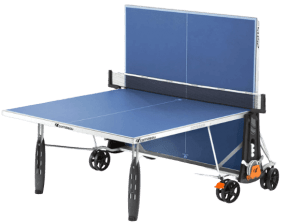 The Cornilleau 250S exterior table highlights the multi-year warranty on the table and edge, which is not included in the business. Cornilleau is still after their good association with the building materials. The 250S is introduced right in the middle of all the exterior ping pong tables we've used throughout the years and is our most popular table, we believe it is the master of the Kettler Champ 5.0 and Killerspin MyT7 Breeze that is worth the cost.
The Cornilleau 250S is one of the best ping pong tables available at a low price. It is lighter than the Cornilleau 400M and 500M but at the same time, it is enough to handle open-air gaming conditions.
The network layer is used to backtrack components. A layer of the weather-resistant polyester net provides flexibility and pressure and will increase when the position is remote.
The Cornilleau 250S has adjustable leg pockets but it is difficult to move and playing on grass, yard, yards, and ground walls is a staple. You get a tabletop 5mm gum, which is better in our eyes than the aluminum composite plates you find on the Kettler Champ 5.0 or Killerspin MyT7 Breeze.
The 1 ½ inch steel chain has been moved so it is sensitive to all weather conditions and will not start or end. The steel legs are neatly trimmed in sap that provides a better life span and durability watched than resistance.
Pros
Takes less space after getting the fold
Large 8″ wheels for extraordinary transportability.
Extraordinarily protected and simple to utilize
Built-in ball and racket holders
10-year guarantee.
Cons
A fixed net framework is helpful yet constrains substitution alternatives.
Considerable get-together required.
What you Should Consider Before Investing in Ping Pong Table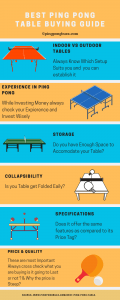 How to Choose the Best Ping Pong Table
After going through the analysis of 12 best ping pong tables, we hope that you'll be able to select one for yourself. Don't forget to keep in mind your requirements and the qualities of the table according to your surroundings and the game style.
You need to keep in mind your gaming style and your place where you are going to put your table. You also need to check if the table is lacking any qualities that are needed for your place. Here we have prepared a buying guide for you that is going to lessen your burden of confusion about them.
Indoor Vs Outdoor Ping Pong Tables
If you are here looking for the suggestion of the good ping pong paddle then you already know the rules of the game and techniques to be the best player. The principal point is the place do you plan on putting your table? Do you plan on placing it in your home in a games room? Or on the other hand, possibly you plan on putting it out in the nursery, in the yard or the carport.
A ping pong table can be truly huge and you have to consider where it will be best for it to live. You can get a table made for both indoors, outdoors, or even ones that bend over as indoor-outdoor air tables relying upon the season.
Indoor Ping Pong Tables
On the off chance that you're going to keep your table inside, at that point you'll need to search for explicit highlights like having the option to overlay it up for reduced capacity. You likewise should search for one with wheels so you can move it around when it's not being utilized.
You can expect inside tables to have a progressively predictable and uniform bob when contrasted with outside ones that cost a comparative sum. This is because tables intended to be utilized outside are worked with a climate-safe material that straightforwardly influences how well the ping pong ball bob is off the surface.
Thusly, expect an indoor ping pong table to be equivalent to or better than the best outside ones in a similar value go regarding playing quality. Indoor tables are not made for open-air use and shouldn't be left in the wet ever.
Outdoor Ping Pong Tables
On the other hand, if playing outside is your best choice, at that point you'll need to get a table that is worked to be kept outside or in a carport. The best outside tables are commonly sturdier and worked with bigger casters and an oversimplified set-up framework.
Their edges and table legs are normally made with rust evidence quality materials assist them with enduring longer and keep their quality. The playing surface is typically made with a waterproof material to prevent it from losing its shape and distorting when it gets wet.
Experience in Ping Pong
Is it accurate to say that you are purchasing the table for easygoing play with your friends or some great family time with the children? Odds are you won't see a lot of contrast between a strong table and a top of the line one past strength and nature of development. In this example, you'll be better off with a mid-go table as the additional ball bob and accuracy won't influence your playing experience that much.
In case you're not an expert player and simply need a decent table for your office, at that point, it will be to your greatest advantage to get a sturdier table. Individuals won't find a way to think about a table that isn't theirs. So the exchange off between solid versus a table that gives an increasingly exact bob bodes well.
Storage
You may have enough play space to play table tennis easily with a gathering of companions, yet will you need to leave the table open once you're finished? You may require the space for something different once the game is finished, and not all individuals have the privilege to apportion one full room only for recreational purposes.
If so then you can decide on a table tennis table that can be collapsed or fell. This can be very useful when you need the space for something different. Fixed tables are set-once you put them in a room, they remain open. Collapsing ping pong tables, then again, can be stuffed and are simpler to store. Search for ones that additionally have wheels so you can slide them into your storeroom or in a corner all the more without any problem.
Will your space suit a full-size table? Consider estimating the room in advance and check whether you have an ideal den for the table. You'll have to set a space recompense of in any event at 3 feet on all sides regardless of whether you're playing for no particular reason or rivalry. Ideal space recompense is around 5 feet for all sides.
" frameborder="0" allow="accelerometer; encrypted-media; gyroscope; picture-in-picture" allowfullscreen title="AW6fMqlP7FM" loading="lazy" src="//www.youtube-nocookie.com/embed/AW6fMqlP7FM?controls=1&autoplay=1&enablejsapi=1&rel=1" >