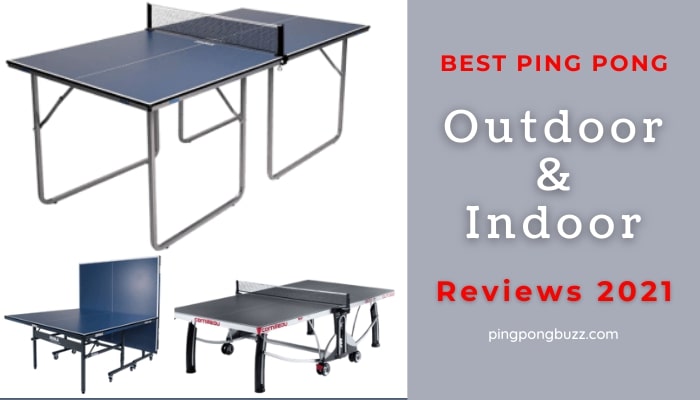 The best Ping Pong tables for home, garage, and basement under $500, 300, 200. Suggestions related top rated table tennis tables in the world.
Greeting to another blog post, Today I shall be reviewing the best ping pong tables in 2022. It was a time when books were arranged on the table to play the role of net in the game called Ping Pong. Luckily, players no longer need to do so because people in the industry of sports have been producing these tables now.
Have you ever thought after losing a match of Ping Pong, "Damn, he was good" or "It was just a bad day for me and my game"? Maybe what you thought was true but you needed to stop here for a moment and consider the chance that you might not be comfortable because of the equipment. Maybe the Ping Pong paddles you were using were not your style, or the Ping Pong table doesn't match your gaming style.
Here I have sorted out a list of the top Tables that are relatively different from each other in terms of the gaming style, place they are needed to be placed, the level of the player who is going to use them, and your budget of course. I hope you'll find a great table for your tennis after going through this list.
JOOLA Tour 1800 – Best for Garage

under $500
JOOLA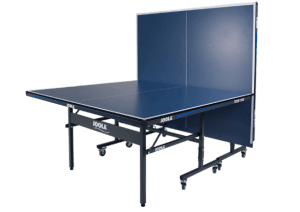 When you take a look at most suggested tables on the internet by professionals, you'll see that JOOLA knows what their responsibility in this industry is. JOOLA is producing many different types of Ping Pong tables and each of them is amazing in its aspects. As a Ping Pong Player, You and I know that the thicker the outside of the tabletop, the better bob you will get.
If you have ever used a large Ping Pong table with folding then you know how much of hassle it is to fold and unfold the table. So if you are having some storage problems or looking for a Ping Pong Table for elders or Children then JOOLA Tour 1800 may be your best choice.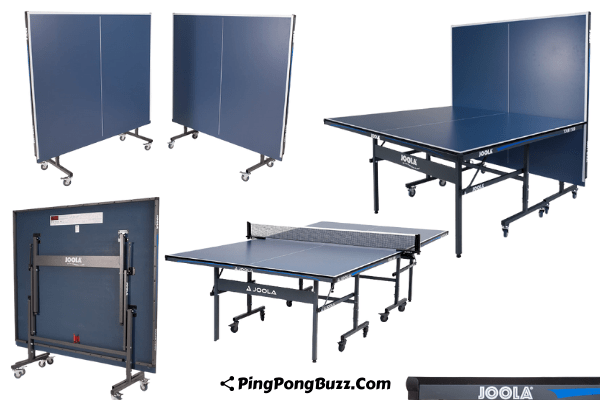 But it doesn't mean that JOOLA Tour 1800 is not for young Professional Players. It has a solid structure and a durable surface. Most of the people who play Ping Pong for leisure recommend this as the best table and of course, I agree, that's why JOOLA Tour 180 is on the top of my list. Dimensions are 9 x 5 feet. Assembly time is 10 minutes (Comes 95% ready to go). The surface is 1″ (18mm) medium density fiberboard.
Pros
95% assembled, makes the set up easier
18mm playing surface
The three-inch caster helps move and lock down the table
The wheels with the table are a great addition for moving indoors
ITTF approved Rubber
Special Packing
Cons
Poor customer service.
Sometimes pads come off due to insufficient glue.
STIGA Advantage Pro-Elite Class – Best for Outdoor

under $400
STIGA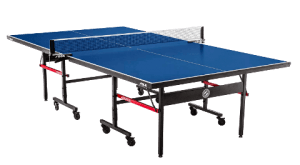 Our third choice is the STIGA Advantage Pro which is another well-known table for recreational players. It ticks some of the containers that you ought to be searching for in the best table tennis table. Its guideline size at 9 x 5 ft, is staggeringly easy to set up. The playing surface arrives in a couple of various table thicknesses.
I like the STIGA Advantage Proform which is 3/4 inch (19mm) yet you can get the standard STIGA Advantage which is somewhat less expensive however has a 5/8 inch (16mm) thick table surface.
It's made with a thick medium-thickness fiberboard that they polish off with different layers of paint to guarantee a thoroughly smooth surface for a reliable bob everywhere. Measurements are9 x 5 ft. The assembling time is 10 minutes. The surface is 3/4″ (19mm).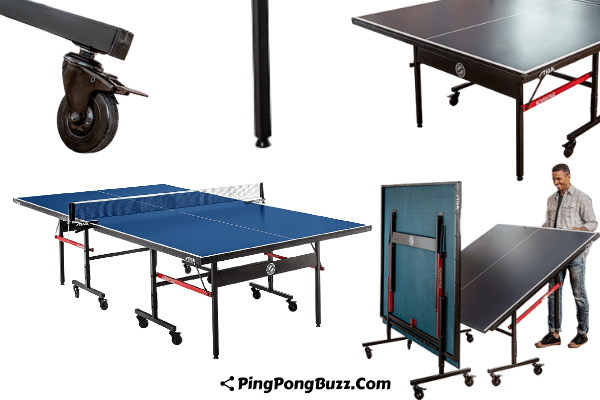 Related Guide: Best Indoor Ping Pong Tables 2023
Pros
Comes 95% assembled to make set up simpler
professional ping pong table
It takes around 10 minutes to wrap up the table and different parts together
The three-inch casters on the base let you move the table and lock it down
Both the striping and surface on the tabletop won't blur or scratch
Works with the included net framework, which bolts on the highest point of the table
Incorporates a playback position for playing against yourself
Cons
The pivots can twist from standard use
It may not show up a level
STIGA doesn't have the best client care
JOOLA Rally TL – Professional Grade for PRO

under $700
JOOLA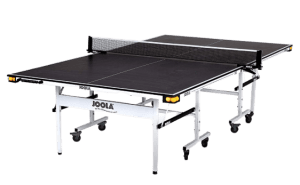 The JOOLA Rally TL like most tables comes in three diverse playing surface thickness 5/8 inch is the norm however if you can manage the cost of somewhat additional than 3/4 inch model is certainly justified, despite all the trouble. For a competition-grade table standard thickness, you can get the 1-inch thick table surface (which is the base permitted in an expert evaluation competition) for a mind-boggling bob.
The JOOLA Rally TL has a tabletop made out of a medium-thickness MDF fiberboard and has numerous layers of paint to guarantee a smooth a steady ball skip during play.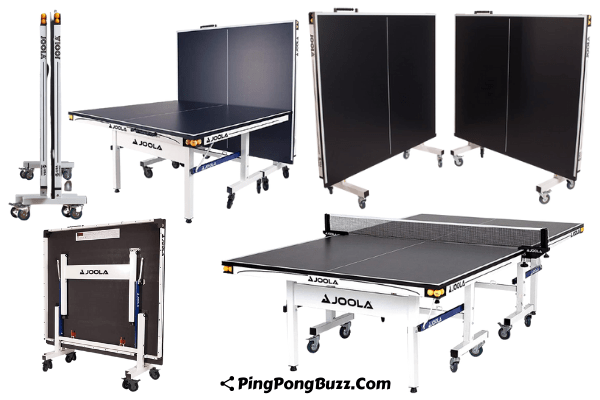 It likewise has four locking haggles levelers to keep the playing surface as level as could reasonably be expected. Measurements are 108 x 60 x 30 inches, Assembling time is10 minutes, Surface is 5/8″ (16mm).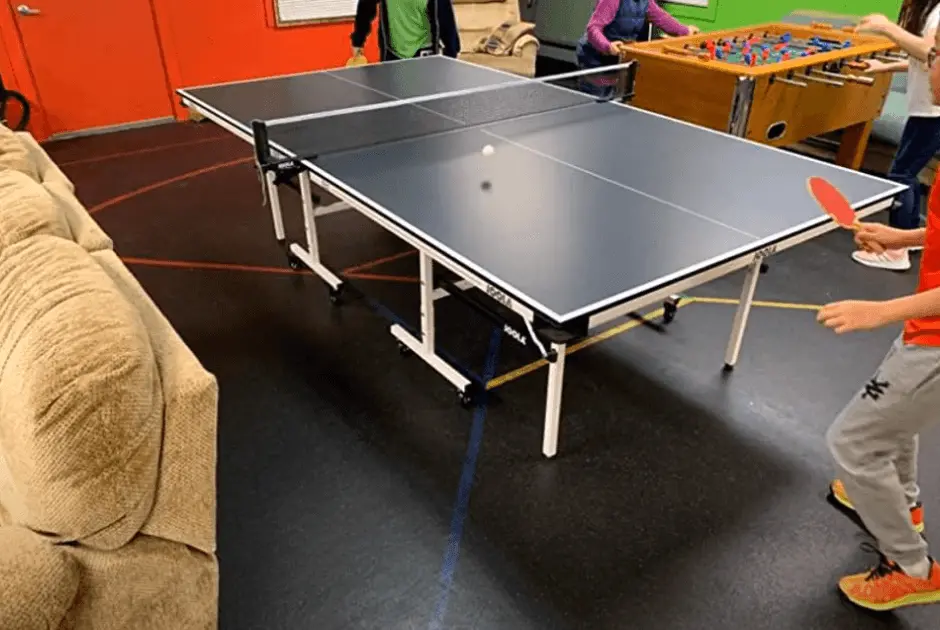 Pros
The solid and strong form of quality
Great feel
Corner ball stockpiling
Math device Scoring System
Cons
Marginally costlier contrasted with peers
Client assistance could have been something more
JOOLA Inside – Best table for Garage

under $550
JOOLA
Just like the other JOOLA tables, you can get it in 5/8, 3/4, or 1-inch top thickness. We suggest you get the 3/4 inch if you want to utilize the table in a cool manner and the full inch rendition if you are getting the table for your table social club. In any case, you will get an elite, great table that won't frustrate you.
The JOOLA Inside is a wonderful ping pong table that will mix flawlessly in any room that you place it in. The dull blue top shading is expertly coordinated by the dark iron cover and thick legs.
This is a standout amongst other watching tables out there. It is made out of solid quality materials, which make it an entirely steady and strong table. Both the 3/4 and 1-inch thicknesses offer a steady ball bob, and it is enough grip to respond to whatever turn the ball may have. This is the best table for the garage, you place and play.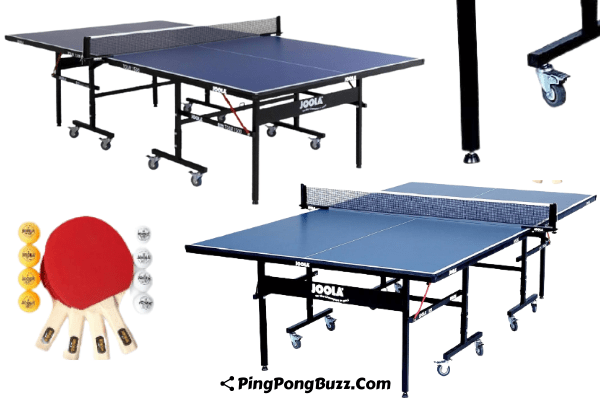 The main contrast is in the skip tallness which is marginally littler for the 3/4 inch. The table is worked out of two parts that can be effectively consolidated in the center. It comes for the most part pre-collected, you simply need to screw on the legs and clasp on the net and you are prepared to begin the game. You ought to be finished with the get-together in close to 10 minutes.
Related Guide: Best Outdoor Ping Pong Tables 2023
Pros
Fulfills the guidelines for expert and rivalry play at home
Sets up rapidly and accompanies every single required frill
Capacities as both an indoor and an open-air table tennis table
The two sides crease up to spare space when putting away in your home
Incorporates three-inch caster wheels for simple vehicle
Has 1.5-inch legs that add greater strength to the table
Cons
Get together can take longer than the maker proposes
Doesn't put a lot of turn or bob on balls
May have some unpleasant spots around the edges
JOOLA Midsize Compact for Home – Best Indoor table

under $150
JOOLA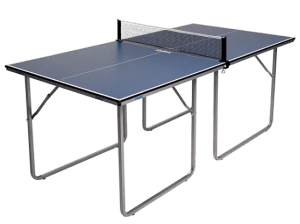 JOOLA Midsize Compact is planned with a similar quality as guideline tables with measurements of 72L x 36W x 30H inches. It's sufficiently little to fit into a medium estimated storage room or it very well may be utilized as two separate tables for different purposes.
The weight is only 62 pounds for simple moving starting with one spot then onto the next. It's sufficiently little to set up in a children's room, office, or other room in the house. The table comes completely collected and prepared to utilize directly out of the case. You should simply unfurl the legs and append the net which is remembered for the case.
This table is made of two parts that lock solidly into the right spot for an OK ball skip. The legs are pre-joined to the tabletop and unfurl rapidly for arrangement and crease up conveniently when it's a great opportunity to take care of the table. Lightweight yet solid materials went into the creation of this table to keep it simple to set up, separate, and store.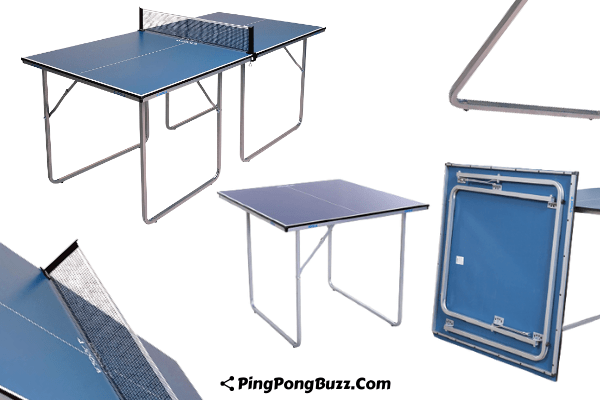 JOOLA Midsize Compact is the best table tennis table for players who are searching for a lightweight and increasingly conservative table for littler regions.
Pros
2/3rd guideline size
Extremely lightweight, only weighs 62 lbs
Little and minimal, each table half creases and can be put away without any problem
Comes with a screw brace net and post set
Cons
Not guideline size, If you're accustomed to playing full-measure tables it's disappointing
Good for easygoing games however not genuine players
Certain clients have announced missing screws
Doesn't accompany paddles or balls
STIGA Synergy Table for Small Spaces – Best in the world

under $700
STIGA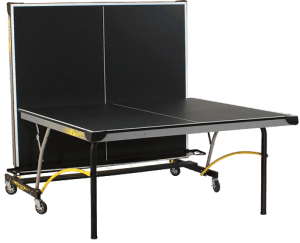 The STIGA Synergy Table Tennis Table is the reason why STIGA's is famous for making quality, proficient bore sports hardware for players. The Synergy, not at all like most models of its group has the markings on the top silkscreened rather than painted on; giving a level and smooth surface that is generally just found on increasingly costly models.
Coupling this with its 2-inch thick steel cover, the Synergy gives the valid and reliable play that is anticipated from significantly more costly units. There is likewise tender loving care on it which is unrivaled in its group.
The legs themselves open consequently when opened, which can make setting up the table from capacity a lot simpler. Too, for wellbeing, its edges have security which keeps wounds from sharp corners.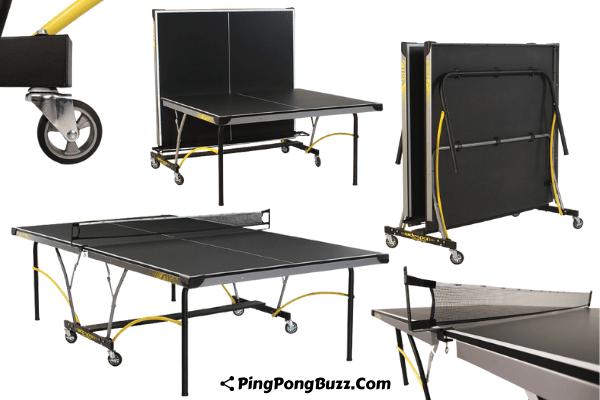 Pros
It takes 20 minutes or less to gather the table after expelling it from the crate
Incorporates a steel cover with defensive pieces around the edges
Highlights both locking casters and steel legs that overlay down from the top
Accompanies a net framework that effectively appends to the surface
You can overlap one side to make a playback
Cons
Just reasonable for indoor use and play
Get together can take longer than you anticipated
You may see a few blemishes or harm on a superficial level
8 Best Outdoor Table Tennis Reviews 2023
JOOLA NOVA – Outdoor Table Tennis

under $500
JOOLA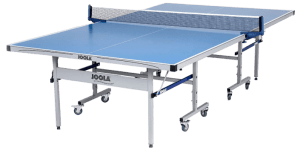 The JOOLA Nova DX is an indoor-outside and it has a 6mm thick aluminum and plastic composite surface that is twisted. It has an extremely solid steel outline (aroused) to sitting on a 30mm x 30 undercarriage that is rustproof and safe. The JOOLA Nova DX parts into two areas to make moving and putting away it simple.
You can do it all alone. You can set it in a playback position to play without a partner on the opposite side. It additionally comes with a weather-proof net set that is extremely simple to set up and isn't fiddly like certain nets we've seen.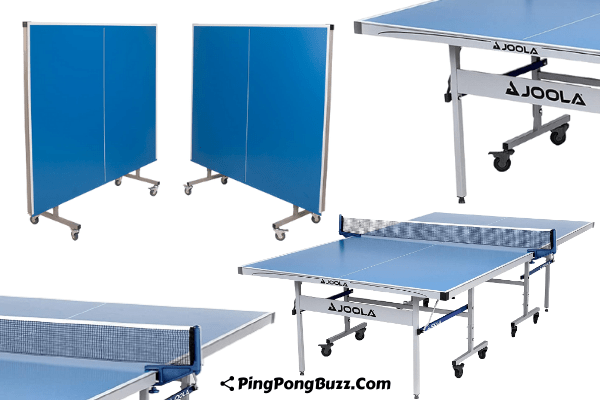 At the point when it's packed up it is exceptionally smooth to move around like every one of the two parts has four caster wheels that lock to protect you while shipping it. Measurements are 9 x 5 feet, assembling time is15 minutes (comes 95% preassembled) and the surface is 6mm thick aluminum-plastic composite.
" frameborder="0" allow="accelerometer; encrypted-media; gyroscope; picture-in-picture" allowfullscreen title="bXQAebtwRss" loading="lazy" src="//www.youtube-nocookie.com/embed/bXQAebtwRss?controls=1&autoplay=1&enablejsapi=1&rel=1" >