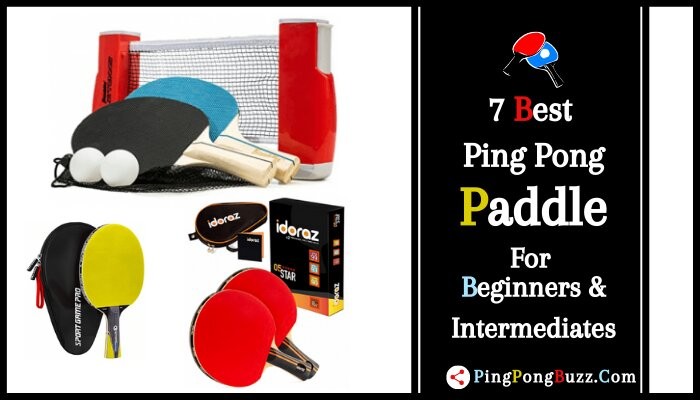 In a table tennis game, every player has to maintain one specific style which could compete with his opponent. If you are a beginner, you are more likely to adopt several principles of the game and learn how to modify style and position to emulate your competitor's shots. Besides, you would be able to develop your playing style, service preference, and types to earn more points.
Whether you adopt the best serving style and great playing position, you won't be able to enhance your game if you are playing with the ping pong paddle that doesn't suit your style. On the other hand, the best ping pong paddle for beginners impacts substantially on your performance and helps your play with perfection.
A professional ping pong paddle adds more strength to your service, enhances your playing style, and brings an optimistic control to your overall execution. For instance, if you see the professional table tennis player Simon Gauzy, he switched from Aero Soft Carbon to Gatien Absolum OFF+ in 2016. This paddle contains Target Ultim 50 softer rubber that helped him develop his game and made him appear captivating because of this paddle.
However, while standing on the initial levels, you may wonder what is the best ping pong paddle for you? That's why I have brought the seven best ping pong paddles for beginners to assist you with your purchasing.
Before purchasing any item, it is crucial to understand your ping pong style so that you could pick the most precise types of ping pong paddles for you. However, each product in the list has been selected based on overall execution and exceptional construction to help you improve your table tennis game. So, let's jump on our first product.
Killerspin JET SET 4 Ping Pong Racket Set – Best for starter
Killerspin JET SET 4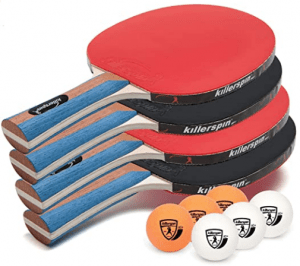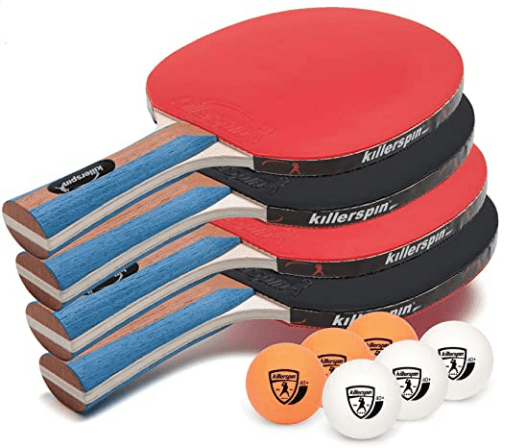 Killerspin itself is one of the most popular rackets, which is considered the best affordable ping pong paddle. However, the product comprises a set of ping pong paddles and table tennis balls. In this set, you would get three pairs of ping pong balls; each pair contains one orange and one white ball. Along with that, you would get four Killerspin jet 200 paddles.
When you buy Killerspin jet set 4, you would feel these paddles are similar to other Killerspin paddles.
However, one unreliability you may encounter in this model is that the paddle's sponge does not contain the same thickness as of jet 200 model.
Besides, each paddle of this set is made with a plywood blade integrated with the sponge layer of 1.5 mm. Moreover, its handle is structured to prevent slipperiness while holding. Although its grip is straight, it has a wide top, which may become uncomfortable while holding.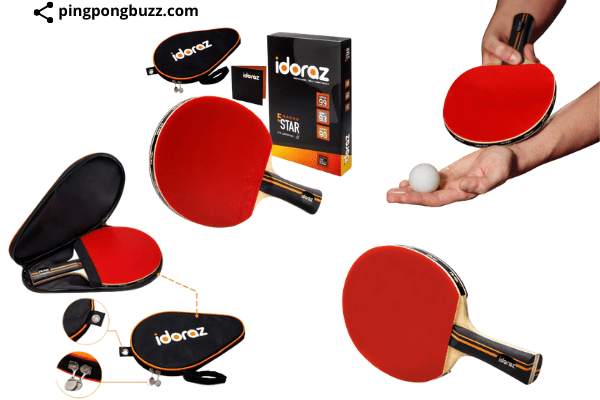 Now, talking about the balls included in the set are standard balls made super sturdily and can control complex techniques excellently. With this pack, you would get six ping pong balls in two variant colors.
This pack of four is a cost-efficient set that can be purchased at the price of one paddle set, yet you would get six ping pong balls and four rackets. Each paddle and ball is made with premium materials that make the set far better than other cheap models. Though it is not suitable for many professionals, as a beginner, you should definitely consider the Killerspin jet set 4.
Pros
Super affordable

Great control for beginners

Contains six ping pong balls and four paddles

A protective cover comes along with

Made with 100% organic material
Cons
Not ITTF approved

Uncomfortable grip
Sport Game Pro Ping Pong Racket Paddle
Sport Game Pro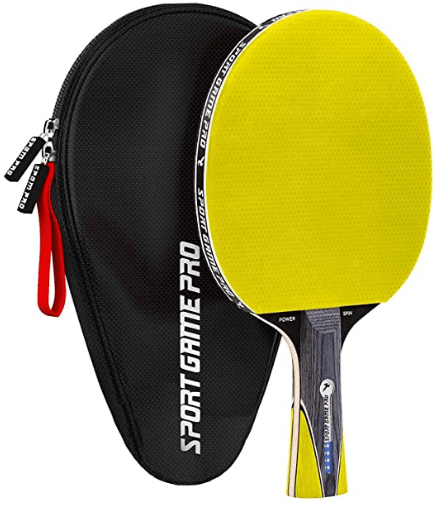 Here comes another best ping pong paddle for beginners that are made with perfection to develop your game. This entry-level model is also perfect for those who do not play table tennis professionally yet recreationally because it can improve most of your skills at an affordable price.
With the sports game pro ping pong paddle, you would be able to get control over the spin and speed of the ball. As it delivers more powerful execution, you should not look beyond this model.
Although, it is non-approved by ITTF because it is only suitable for tournament plays and private level players. This model cannot be used in professional tournaments because its color may come off.
This paddle should be ideal for you as a beginner. You can learn various modes and styles in the game. Nevertheless, you may find its two sides pretty different, which may confuse you about handling the paddle. Yet, if you hold the penhold playing style, this model may suit you.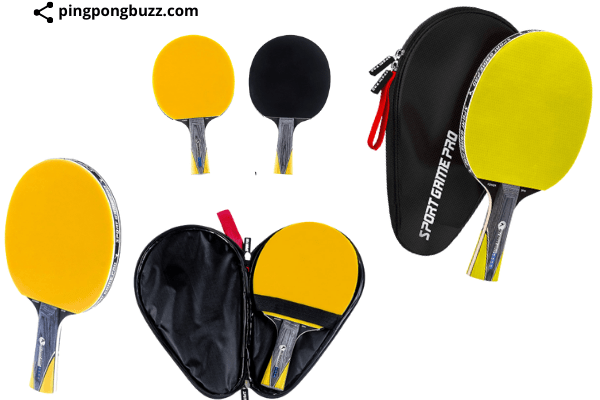 Talking about the construction and structure of this pro ping pong paddle. It is engineered with a dovetail handle and a five-ply pure wood blade, making the overall paddles extremely comfortable to hold and helps you with considerable control. In order to provide you spin and speed, a 2mm rubber is inbuilt on the top of the 2mm sponges that absorb all the forces coming from the opposite side and deliver fast service.
In addition to this, if you are looking for a ping pong paddle for you as a beginner or any other player at an initial stage, this ping pong paddle is ideal for learning speed, spin, and control of hard hits.
You would discover its finishing in a pretty satisfactory way. But, the colored rubberized grip may become sticky with time, but this model is relatively smooth and works best for complex performance by the opponent. This paddle is a gift for you for hard hits.
Related Guide: Ping Pong Paddles Racket Bat Racquets 2023
Pros
Comfortable handle to hold

Delivers quick serving

Comes in three vibrant shades

Comprises two different sides
Cons
Non-IFFT approved

Not best for professional tournaments
Stiga Evolution Performance Level Table Tennis Racket – Lightweight
STIG EVOLUTION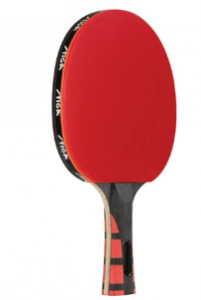 Stiga evolution ping pong paddle is another fantastic product designed for table tennis players at the initial level. This model helps them enhance their overall performance along with their ball accuracy and stroke style.
This model is ranked amongst the top seven best ping pong paddles for beginners that incredibly provide great control. Although this table tennis racket is excellent in overall execution, you may find it slightly less speedy. This is because it lacks power while serving the ball.
Moving towards its manufacturing_ this ping pong paddle is made with first-class 6-piles of lightwood.
Its blade comprises 2 mm of super soft sponge on its top that contains millions of tiny bubbles that help in binding the layers of the blade.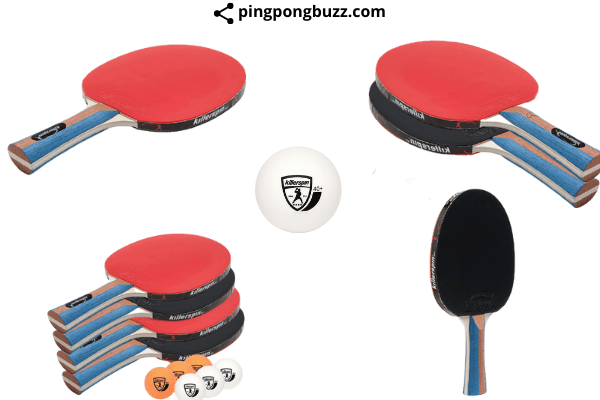 Besides, the blade is then coated with a layer of excellent rubber that allows outstanding speed and elegant spin with exceptional control. This paddle is constructed stunningly that features professional-level ultra-light rubber that would make this racket as lightweight as a feather.
" frameborder="0" allow="accelerometer; encrypted-media; gyroscope; picture-in-picture" allowfullscreen title="N_9lALz7Hjw" loading="lazy" src="//www.youtube-nocookie.com/embed/N_9lALz7Hjw?controls=1&autoplay=1&enablejsapi=1&rel=1" >