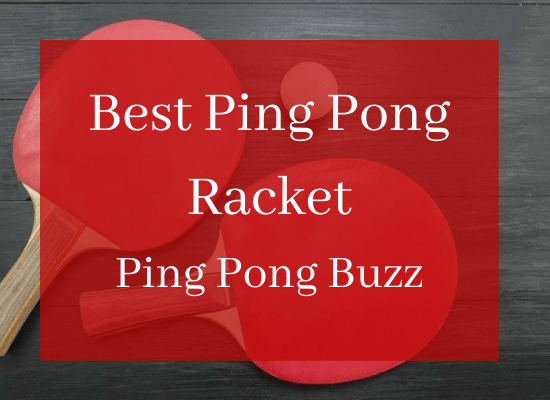 Table Tennis is a game with a purpose, where every ball hit by the player, is hit with passion. It isn't merely a game, it's war, and you cannot go in a battle without weapons. Your weapon for success in table tennis is a Ping Pong Racket.
Before you begin your game, make sure your Ping Pong Racket suits your style so that it can facilitate your game instead of causing hurdles.
The basic principle for choosing the best Ping Ping racket is to make sure your racket has a good grip. It is not only essential to know how to hold a ping pong racket, but it also integral that your ping pong racket's pen hold grip is short and sturdy.
You might also like to check Best ping pong racket for spin.
Top Ping Pong Rackets that could elevate your game
| Model | Dimensions (In) | Ratings | Price |
| --- | --- | --- | --- |
| Stiga Pro Carbon Ping Pong Racket | 2 x 6.25 x 21.5 | ⭐⭐⭐⭐⭐ | |
| Butterfly 401 Shake hand Ping Pong Racket | 3 x 725 x 22.5 | ⭐⭐⭐⭐⭐ | |
| Yasaka Mark V Carbon Racket | 0.94 x 6.54 x 1.02 | ⭐⭐⭐⭐ | |
| Joola Spinforce 500 Ping Pong Paddle | 1.94 x 7.54 x 2.02 | ⭐⭐⭐⭐ | |
| Custom Gambler Professional | 11.61 x 7.28 x 0.98 | ⭐⭐⭐⭐⭐ | |
| Killerspin Jet 800 Ping Pong Paddle | 6.13 x 6 x 0.54 | ⭐⭐⭐⭐ | |
| Dunlop Revolution 7000 Racket | 7.13 x 8 x 0.56 | ⭐⭐⭐⭐⭐ | |
Stiga Pro Carbon Ping Pong Racquets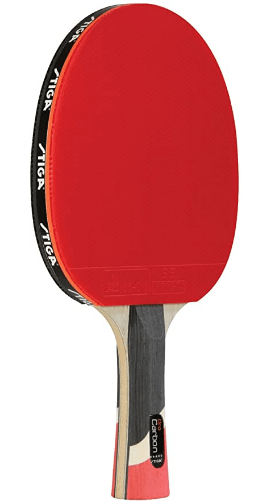 Stiga is a Professional level Racket made of high-quality material. It can also be used by intermediate players for better experience and performance.
Features of Stiga Ping Pong Paddle
Rigid Carbon Layer: Stiga has a rigid carbon layer that enables the player to smash with more power. Also, it generates spin.
ITTF Approved Rubber: Stiga ping pong paddle is made of ITTF approved rubber which makes it legal for use in formal national and international competitions.
Light Weight racket: Stiga ping pong paddle is lightweight and the player can easily control it. It weighs 149 grams and has been constructed with five plywood layers. Hence, you can maintain a good balance because of its lightweight.
Good Bounce: Stiga ping pong paddle has a good bounce due to its hard high-quality rubber.
WRB Technology: Shots with Stiga become faster and more precise at landing due to the WRB technology used in its making. However. it also generates insane speed.
Pros
Stiga is an incredible alternative to a custom racquets.
It is a good quality racket for a reasonable price.
Carbon technology facilitates power and speed.
The rubber is 2 mm thick for increasing speed and spin.
Cons
Stiga cannot give an exceptional performance for creating backspins.
Stiga is not an adequate ping pong paddle for chopping.
It is not suitable for inexperienced players.
Butterfly 401 Shake hand Table Tennis Paddle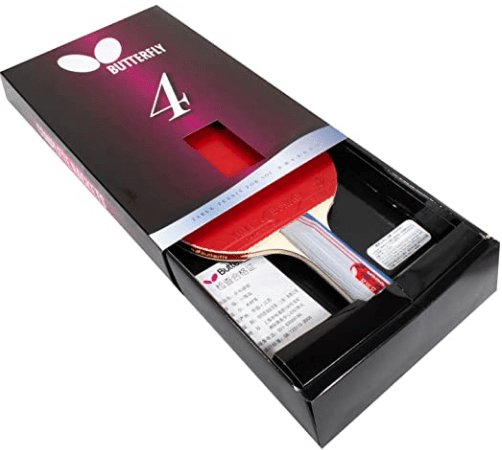 Butterfly 401 ping pong paddle suits various player styles due to its versatility. On the whole, it is a rounded ping pong racket especially designed for hard-hit ping pong shots. In addition, it also serves as an excellent learners racquet due to its ease of use.
Features of Butterfly 401 Shake hand Tennis Racket
Built with Yuki: Butterfly 401 is built with 2.1 mm Yuki rubber on both sides for added spin.
Additional Pull Paddle Case: Butterfly 401 Shake hand Paddle comes with an additional pull case for easy storage and protection of the ping pong racket.
Ergonomic Grip: The handle is designed especially for a shake-hand paddle and is longer. Similarly, the grip is designed for comfort and added performance.
ITTF Approved Paddle: The International Table Tennis Federation has approved Butterfly 401 for high-end tournaments.
Long-Lasting Material: Butterfly 401 ping pong paddle lasts longer comparatively. Besides, the high-quality rubber maintains its tackiness even after prolonged usage. It is sturdy enough to take a good beating.
Pros
Butterfly 401 is highly rated for its speed, spin, and control.
It is a good all-rounder ping pong paddle
You get good value for a reasonable price
It has high speed and spin ratings
The springy rubber produces good speed and spin.
Cons
The handle of Butterfly 401 is slightly shorter, which could affect grip.
It is not very adequate for an advanced level game, however, is good for beginner and intermediate players.
You might also like to read Best Ping Pong Tables Under $500
Yasaka Mark V Carbon Racket – Best for Spin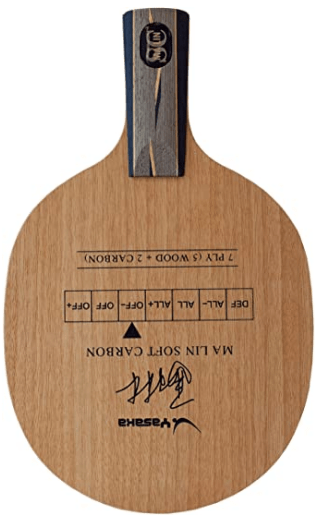 The Yasaka factory in Sweden produces one of the world's finest quality ping pong racquets. The company collaborated with a famous tennis player from China, Ma Lin, for the production of rackets.
Features of Yasaka Mark V Tennis Racket
New Elastic Carbon Blade: The new carbon blade of Yasaka Mark V has 1 ply of carbon and 5 plies of wood. the material is soft and the expanse of the ball hitting area is big.
Versatile Rubber: The racket is equipped with rubber for the backhand and forehand. the thickness is 2 mm which facilitates speed and power and can generate a hard hit.
Flared Handle Blade: The blade is equipped with a flared handle. It is a shake-hand type racket handle.
Good Control: It is easy to control Yasaka Mark V as it is lightweight. flicking it is effortless which makes your game excellent.
Pros
The racket offers a side spin and topspin which makes it hard for the opponent to hit back.
It has a faster loop and a drive.
The racquet exerts reasonable control as it weighs only 170 gms
It provides both forehand and backhand stroke
The craftsmanship of the racket is exquisite.
Cons
The blade dwell-time is less due to the hard sponge.
Check: Best Table Tennis Paddles under 100
Joola Spinforce 500 Ping Pong Paddle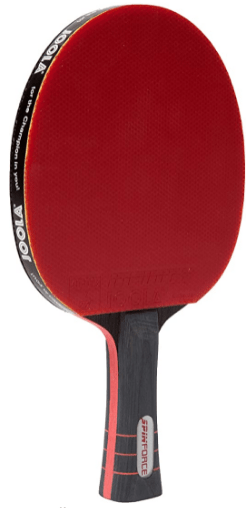 Joola Spinforce 500 is a high-quality ping pong racket, made for a professional game. It has a great feel and fits your hand perfectly for a more controlled game.
Features of Joola Spinforce 500 Ping Pong Paddle
7 plywood with double Carbon Layer: Joola Spinforce 500 has 7 plywood which gives it perfect speed and exceptional spin.
Micron 48 Black Rubber Blades: The blades of Joola Spinforce 500 are Micron 48 on both ends that enable good spin quality and better game.
 ITTF Approved: Joola Spinforce 500 is ITTF approved and is used in professional tournaments worldwide.
Pros
Joola Spinforce 500 is perfect for Intermediate and advanced players.
Vibrations are reduced due to the dual carbon layer.
It has excellent quality and high durability.
It is easy to swing as it is lightweight.
Cons
The rubber on the racket deteriorates with continuous use.
Custom Gambler Professional Ping Pong Paddle
Custom Gambler Professional takes your game to a higher level.  It is made up of high-quality material and design and can easily compete with top-notch racket brands.
Features of Custom Gambler Professional Ping Pong Paddle
Light Blade and Sticky Rubber: Gambler Professional has a light blade for a powerful hit. The rubber is sticky and facilitates good spin.
Replacement Rubbers Available: The availability of replacement rubbers can make your racket last for a longer time. It is readily available and cheap to maintain.
 Lightweight: The Custom Gambler Professional is lightweight which makes it easily controllable for a better game.
Double Carbon Layer: Custom Gambler Professional has a double carbon layer for stabilization and increased speed.
ITTF Approved: ITTF and USA-TT have approved Custom Gambler for use in advanced-level tournaments.
Five plywood: The racket features 5 plywood namely Limba and Ayous, which makes it more durable.
Pros
Professional level game quality at a very low price.
The brand provides excellent customer service.
The tacky rubber quality enables player to shoot tricky shots.
The manufacturer used high-quality material to make Custom Gambler Professional.
The brand professionally glue he rubber to the racket.
The manufacturer provides a paddle cover with the racket.
Cons
You have to replace the rubber after every few months of regular use.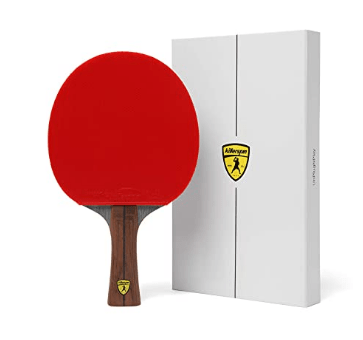 Killerspin is an advanced-level, shake-hand ping pong racket. It is one of the most popular paddles in the market, liked by professional players.
Features of Killerspin Jet 800 Ping pong Paddle
7  Ply Blade: Killerspin has 5 plywood and 2 carbon fiber ply to increase power and make defensive shots easier.
ITTF Approved: ITTF has approved Killerspin Jet 800 for official tournaments.
Ergonomic Handle: The handle of Killerspin Jet 800 has an exceptionally flared grip so that it doesn't slip and feels more comfortable.
Nitrx-4z Rubber Sheets: Killerspin has two Nitrox 4z rubber sheets to generate more speed. Furthermore, it is 2 mm in depth and causes the ball to ping more quickly for an aggressive game.
Pros
The racket has a high 9.5 spin rating.
It is a good-looking paddle with a great design.
Killerspin is adequate for intermediate and professional players.
A wooden side tape surrounds the edge of the racket.
The racquet has high power ratings and is able to hit shots faster.
Cons
At 190 grams, Killerspin Jet 800 is heavier than its counterparts.
It is quite expensive with only a 30-day warranty.
Dunlop Revolution 7000 Racket – Best for beginners
Dunlop is the most popular ping pong racket in the UK. Also, it is the most commonly used paddle as it is the cheapest.
Features of Dunlop Revolution 7000 Racquet
ITTF Approved: The International Table Tennis Federation has approved Dunlop Revolution 7000 is ITTF for use in tournaments.
5 plywood: The blade of Dunlop is 5 ply pro A which makes it enhanced in power and spin.
1.5 mm Sponge: The sponge of Dunlop revolution is 1.5 mm thick and is high quality D30 material.
Concave Grip: The grip of Dunlop is concave which increases control of the racket immensely. Eventually, a good grip gives a good game.
Pros
Dunlop Revolution maximizes the offensive potential of players
It has superb spin performance and can eventually give you a good game
The racket has revolution max rubber which enables you to hit powerfully
It also helps in developing the technique of newbie and intermediate level players.
Cons
Dunlop Revolution 7000 weighs a lot. As a result, it becomes a burden after playing for a while.
It is not adequate for advanced-level players, however suits beginners and intermediate-level players.
Best Table tennis Tables Under 500
Buying Guide
The market is flooded with various ping pong rackets, however choosing the right one is important as it could change the way you play.
So, before buying a ping pong paddle, there are certain things that you should take into consideration. Consequently, you do not want to end up spending your money on a ping pong racket that doesn't suit your needs and style.
For understanding the primary considerations before choosing a ping pong paddle, you should first understand the components and materials specific to the construction of a ping pong racket.
Blade
The blade is a chief component of the ping pong paddle. Usually, brands build blades from wood. However, ITTF also allows a minimal 7 to 15 percentage of carbon fiber, compressed paper, or other fibrous materials in making blades for tournament standard paddles. Initially, it is essential for the paddle to contain 85% of wood.
In addition, the blade constitutes 5 or more thin wood layers called ply. A standard ping pong paddle commonly uses a 7 ply and a 5 ply blade. An efficient blade is essential for good performance.
A blades' carbon constituent includes predictability to your game. However, players are accustomed to an all-wood blade with time.
A carbon fiber blade can add bounce, stability, precision, and speed to your game, along with predictability.
In Contrast, a blade made of 100 percent wood gives better control to the player due to its lightweight and enhanced spin.
Rubber
Rubber covers the blade on both sides, especially the area that comes in contact with the ball. ITTF has permitted two kinds of blades:
Pimpled Rubber:

A pimpled Rubber blade can either be natural or synthetic. The rubber is non-cellular with evenly distributed pips that either face or out. Moreover, the density is usually 10 to 30 per square cm. 

Sandwich Rubber:

Cellular rubber having a single layer is called a sponge. Pimpled rubber sandwiches his sponge. Also, it increases the thickness to 2 mm.  Additionally, the thickness helps in improving the speed of the ball as the ball can bounce off quicker. Thick rubber is more suitable for experienced players.

Two-faced Rubber: Some rackets have a two-faced rubber coating on either side. This enables the player to use both sides for hitting the ball. However, the rubber must meet standards set by ITTF. Besides, there is also a color rule by the ITTF which states that two-faced rubber should be black on one side and red on another. Officials only allow entry of paddles in tournaments on the condition that the paddle has the allowed color code.
Handle
A racket's handle attached to the blade mainly comes in four types. These are:
Pen hold Handle

Straight Handle (ST)

Anatomic Handle (AN)

Flared Handle (FL)
Choosing the right handle is a matter of personal preference. Pen hold handles are short and usually used by players from Hong Kong and China. The paddle is closer to the table by using a pen hold grip and the wrist remains flexible. Also it allows more spin.
A flared handle is longer than the Pen hold handle and is suitable for beginners. As mid and low-priced paddles usually have flared handles. Therefore. these are great for forehand shots. 
Straight handles are suitable for players in a habit of changing their grip. Usually, professional players use straight handles. However, these aren't commonly available. 
An anatomical handle is designed specifically to fit your hand. Therefore, it is comfortable and suitable for players who do not change their grip. Consequently, they have a more natural feel than other racket handles.
Grip Tape
A racket with a handle grip or tape gives more control to the player. Usually, grip tapes are separately available to attach to any racket. 
Glue
Manufacturers use specific glue in ping pong rackets to attach rubber to the blade. Before 2009, many players used speed glue for increasing the elasticity of the rackets, but ITTF banned its use.
Side Tape
The final component of a ping pong racket is side tape. It seals the rackets' edges and determines the thickness of the rubber and the blade. In addition, power tape adds weight to your racket.  
Choosing Rackets Based on Your Playing Style
For choosing the right racket, you should know your playing style so that it can facilitate you in your game. In fact, it depends on the hold that you would like, or the kind of game you usually play, either defensive or offensive. Following are the tips to know your playing style:
Ask Around:

Ask experienced players what they recommend. Subsequently, the style that you start with as a beginner sometimes sticks till the very end. 

Consider Ratings:

Racket performance is measured on a ranking scale of 10 points to 100 points. For instance, All brands have rankings mentioned for racket attributes, like power, spin, etc.

Weight:

Consider the weight of the racket that you feel comfortable playing with. As the weight depends on the thickness of the rackets.

Power

: The material used in the manufacturing of the racket determines its power. Therefore, if you are a hard hitter, you would need a sturdy and powerful racket.

Control:

Many players prioritize control overpower or speed. The rubber quality, padding weight, and thickness determine the control of the racket. Also, the rubber should be tacky for more control. 

Spin: Spin is essential in a game. Likewise, enhanced spin can make it difficult for your opponent to return shots. Similarly, a lighter blade can improve your spin 
Predetermining the above mentioned game styles and attributes can prove to be a guideline for you. As a result, it will help you to find the best ping pong racket to facilitate your game.
Final Verdict
To conclude, it can be overwhelming to choose from the wide variety of ping pong paddles available in the market. However, if you go through the above points carefully, you would be able to select the most suitable ping pong racket for yourself.
Hence, if you are a beginner or an intermediate-level player, it is best that you select either Dunlop Revolution 7000 or Butterfly 401 shake-hand paddle. Similarly, these are most adequate for the kind of game beginners and mid-level players play.
FAQs
What is the best way to hold a ping pong racket?
The best way to hold a ping pong racket is to grip the racket handle as if you are shaking someone's hand. Wrap your fingers around it, keeping your thumb on top. On the whole, maintaining perfect hold stability requires a lot of practice.