Do you think that ping pong balls do not have an impact on your game, and they all are made equally? Well, if you believe so, you might be wrong. Just like the ping pong tables, the table tennis balls are also made as per the level of the player. Not only this, but the quality also matters substantially while picking an ideal table tennis ball for you.
However, with numerous types yet similar shapes of ping pong balls, it becomes pretty hard to choose which one should be selected. Fortunately, I have brought the ten best ping pong balls for you. Each product is determined by testing and trying them in-depth so that you would be guided with the perfect options in 2021.
List of 10 Best Table Tennis Balls Reviews
I have picked the ping pong balls from the top-notch manufacturers that always deliver high-class products to their clients. Thus, each ping pong ball is selected on the basis of its product quality and execution. Get through our detailed review and identify which one meets your requirements.
| Table Tennis Ball | Ratings | Price |
| --- | --- | --- |
| PRO SPIN | ⭐⭐⭐⭐⭐ | |
| STIGA 3-Star | ⭐⭐⭐⭐⭐ | |
| KEVENZ 3-Star | ⭐⭐⭐⭐ | |
| ZHENAN 3-Star | ⭐⭐⭐⭐ | |
| Killerspin 4-Star | ⭐⭐⭐⭐⭐ | |
| MAPOL 3-Star Premium | ⭐⭐⭐⭐ | |
| Butterfly G40+ | ⭐⭐⭐⭐⭐ | |
| Champion Sports Tournament 3 Star | ⭐⭐⭐⭐ | |
| Butterfly A40+ 3 Star | ⭐⭐⭐⭐⭐ | |
| MAPOL 3-star White | ⭐⭐⭐⭐⭐ | |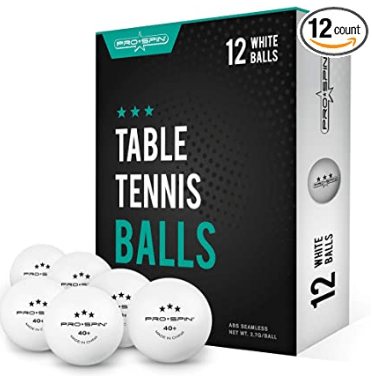 If your old ping pong ball did not provide you good spins, yet you are looking for a table tennis ball that offers excellent controllability and spin, the Pro Spin ping pong ball is ideal for you. The Pro Spin ping pong ball has a next-level superiority that is rarely found in other typical balls because it carries multiple features.
Talking about the aggressive and dominant serves, the professional players appreciate this ball. If the ball absorbs while hitting, it will ultimately crack or dent, which will be wasted. Yet, with the Pro Spin ping pong ball, you will get a thrash-absorbing feature, which means that it will remain in its shape no matter how hard you play.
Moreover, this pack of 12 is available in both standard colors; orange and white. The 3-star balls are pretty durable to survive with violent games. You can use these balls for both indoor and outdoor use. Nevertheless, as per many reviewers, if you are looking for a ball to sustain consistency, the Pro Spin balls are the ideal option for you.
Its weight, size, bounce, and spin are perfect that is approved by ITTF. Since these balls are seamless, it means they are specifically made to improve your execution for your next tournament.
Pros
Quite firm and durable

Provides perfect control and spin

High-quality ping pong ball

Great for indoor and outdoor games

Offers 100% money-back guarantee
Cons
The packing isn't reliable

Non-uniform construction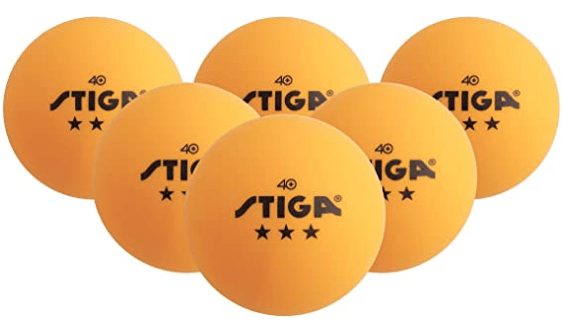 The Stiga 3 star ping pong ball is admired by many professional table tennis players and tournament enthusiasts who play the game devotedly. Well, these balls are famous for their premium sturdiness that comes in a very visible orange shade.
Many great reviewers and analysts have tried this fantastic table tennis ball while selecting the best ping pong balls, and it has come to an end that these balls are the ideal option for those who play table tennis in tournaments professionally.Â
These supreme quality balls are for exceptional spin and uniform bounce to meet the level of the players. Notwithstanding, if you are willing to buy expensive ping pong balls, there should be no compromise on the quality and execution, then go for the Stiga 3-star first-class ping pong ball.
The durability of these balls has been improved than its prior models only to help you develop your game while getting training. These balls provide remarkable control and incredible bounce along with ultra-quality balls, which are ideal for an official match. With this option, you will be able to enhance your game quickly because it offers a grand torrent.
Pros
Long-lasting ping pong ball

Offers great flexibility

Approved by both USATT and ITTF

Ideal for pros

Delivers excellent bounce
Cons
Pretty expensive to buy

It only comes in the pack of 6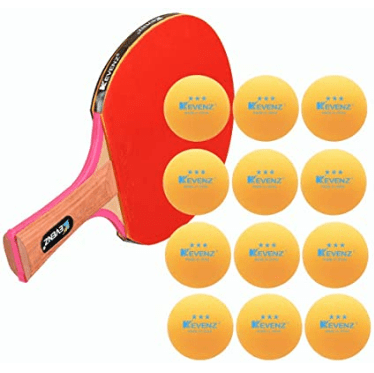 The Kevenz 3-star ping pong balls are considered the best outdoor ping pong balls. If you are searching for a ball for outdoor table tennis, consider the Kevenz 3-star ball. Many testers have tested its durability and have come to the fact that it can survive up to 1000 impacts without damaging and de-shaping the ball.
Basically, the Kevenz ping pong balls are manufactured in China. Once they are made, they go through laborious testing before releasing to the market. This testing is essential to assure the quality of the product. Not only this but the Kevenz ping pong balls are also examined to identify their mass and weight.
These are the highly approachable balls that are used by both professional and casual players. However, these balls come in both white and orange shades to make the game more visible on the tennis table. Additionally, these balls are off and on used to improve the game for official championships.
Pros
Great price for 60-pack

Reasonably lightweight

Tested before launched

Possesses great bounce

Offers remarkable durability, spin, and control
Cons
Not suitable for random practicing sessions

Slightly tacky as compared to other 3-star balls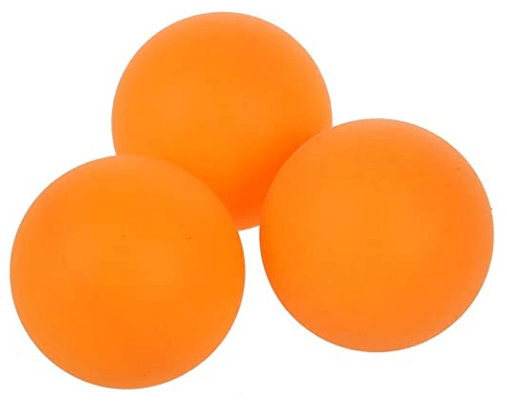 The Zhenan 3-star is the new material ping pong balls that are ideal for advanced-level players and amateurs because of their excellent mass and standard size. Although these balls are not perfect for tournaments due to their quality, they are best for you if you play table tennis professionally, yet not officially.
These balls use many innovative technologies, including robotics, multi-ball training, and automatic serve machines. These features are inbuilt to help you practice the game. Besides, the Zhenan 3-star ping pong balls are made to develop your game for sure.Â
These balls are manufactured with the thinnest and latest plastic material that delivers remarkable bounce and excellent consistency. These balls are ideal for those who are anticipating becoming experts in control and spin for practicing.Â
In addition to this, these balls hold a larger mass as compared to the conventional ones. It is perfectly round with invisible seams that truly make a balanced swing. The diameter of each ball in the pack is 40mm that catches more spins and stays on the paddle for better control.
Pros
The mass of these balls are greater

Its orange shade is very visible

Perfect ball for beginners, arena, training, and professionals.

It offers a 90-day warranty

Comprises best technologies
Cons
Not suitable for tournaments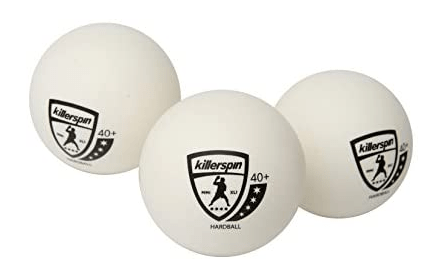 As an enthusiast table tennis player, when you hear the Killerspin brand name, quality comes to mind. The Killerspin 4-star ping pong ball is an excellent product that provides you with all the customary elements you would definitely want in a ball.Â
When this ball first came, they were round perfectly. However, this feature is essential for a competitive table tennis game. The rounder the ball, the more consistent it would be. Besides, the round ball adds more reliability and composure to the game.
The Killerspin competition ball is explicitly designed to provide you the most impactful experience in-game. The Killerspin 4-star is the best ping pong ball when it comes to bounce, spin, movement, and control.
Each ball in this pack is built with the latest ABS plastic material that is the most popular material for ping pong balls in the market. This material is very durable and sleek, which is also perfect for bouncing. It provides your competitive match with consistent bouncing and excellent table contact.
Pros
ITTF quality product

New standardized ABS ball

Enhanced durability

Superior execution

It comes in a larger size
Cons
It comes in white shade only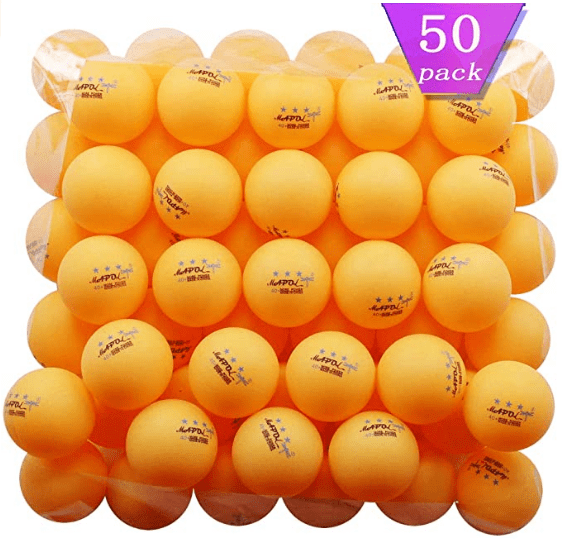 Maple 3-star ping pong balls are getting popular gradually. However, if you are anticipating improving your game, this should be a perfect choice. Although it comes in a standard orange shade, the color is the glitter that gives an attractive appearance. This glittered color usually helps in detecting it quickly when the ball goes out of reach.
The Maple 3-star ping pong ball is more lightweight than any other traditional ball; that's why this ball is one of the best-selling products. Despite its appearance, the ball provides outclass execution along with brilliant smoothness and comfort while playing.
It is a worthwhile product for spin, power, controllability, and bounce that drives in the air excellence. This ping pong ball set is simply very durable like any other top-notch brand, yet it can be purchased at a pretty reasonable price.
Pros
Easily visible colors

Superb for practicing

Trustworthy manufacturing

Provides decent spins

30-day money-back guarantee
Cons
It is not much popular

The durability is not much high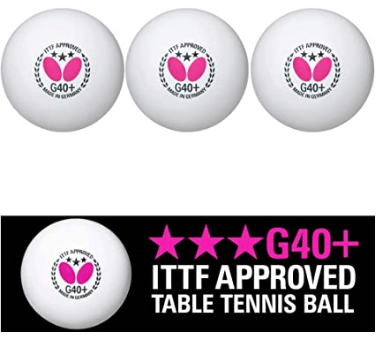 The butterfly G40+ was initially launched in 2015 with much publicity. This ping pong ball was the first plastic ball made outside Asia. However, Butterfly claimed to manufacture the most durable and roundest ball ever.Â
Nevertheless, as per the claim, these balls are rounder and more durable than the other Chinese plastic egg-shaped balls. Further, because of their quality, these balls are approved by ITTF and come in a pack of three.
Coming towards the construction of this set_ this ball is made in Germany and has been used in the table tennis 2015-2018 match of Canada. Although the diameter of this ball is the same as regular balls, they create a more consistent bounce from all sides.Â
Pros
Good for tournaments

Great momentum

Rounder than other balls

USTA and ITTF approved

It comes in standard size
Cons
It May get cracked after frequent use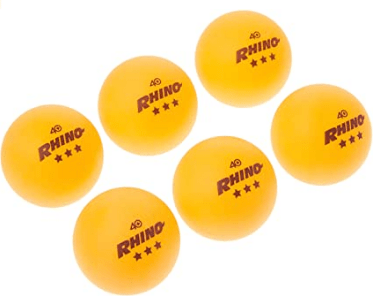 It is an outstanding recreational table tennis ball pack that is competitive between proficient players and casual players. These balls are adopted for fun sports and are used by all levels of players. Notwithstanding, this tournament-grade ball is designed sturdily with seamless plastic material.
This kit claims to provide the best regular size and functional performance. The diameter of the ball is 40mm, which is considered the ideal one. These all features are required by professional players, which means this ping pong ball pack is suitable for them.
Its durable design comprises dots to make the ball more visible during the game so that the ball could be followed quickly when it is out of reach. This ball is seamless to ensure the toughness and firmness of the ball for hours on the table.
A very consistent and enduring ball delivers an average bounce on the ping pong table. Anyhow, the premium table tennis ball from the champion store is made with high-quality to entertain and help in practicing the players.Â
Pros
Tremendously affordable pack

Available in both colors

It comes in a pack of three and six

Ideal for practicing

Suitable for both casual and professional players
Cons
Not appropriate for tournaments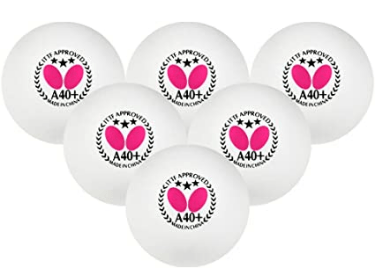 As its name suggests, this A40+ 3-star ping pong ball is the best professional table tennis ball that is used for championships and tournaments. These balls always provide consistent and more balanced performance in every contest.
Unlike the above product, these balls are made with seamed plastic that is not always admired by many people; still, they are widely used in several championships and help players win the match. If you are a beginner and looking forward to practicing for such championships, pick Butterfly A40+ 3-star ping pong balls.
The Butterfly A40+ 3-star ping pong balls come in the pack of three, six, and twelve with a great price for sale. It means you would get plentiful benefits at a really affordable price once you buy this set.Â
Pros
Quite firm construction

Solid appearance but very lightweight

Best for tournaments and championships

Extremely durable

ITTF approved
Cons
The bounce may not be reliable with time

Cannot bear violent hits
The Maple 3-star white balls are very suitable for professional training because it gives the pro-level execution yet at an affordable price. Many players who have tried these balls have uttered that these balls are incredibly responsive and have great bounce. therefore, the Maple white balls are high-recommended balls for practicing
The diameter and weight of these balls may differ from each other, but they definitely won't affect your game while training. Playing with these balls would amazingly enhance your speed and improve your game to its perfection.Â
If you play table tennis in the open air, you should consider the Maple White ping pong balls because they are weatherproof products. These balls bear any sort of weather, either sunny or rainy. In addition to this, they are also ideal for beer pong because of climate-friendliness.
These best table tennis balls are manufactured by an international registered brand, Maple. Thus, it is a very durable and long-lasting ball that always provides 100% customer satisfaction. Besides, you would get a money-back guarantee within 30 days.Â
Pros
Increases the hit powerÂ

Affordable price

Size and weight is standard

Suitable for all levels of players

30-day money-back guarantee
Cons
It can get dents easily

The mass of all balls may vary
Buying Guide
While choosing the best ping pong balls, there are some factors that should be kept in mind. However, if you consider these elements, it becomes easier to decide which one should be picked. These factors include:
Size
If you play table tennis just for fun, consider small-sized ping pong balls. Nevertheless, if you are a beginner and practicing the game, then you should buy a standard-sized table tennis ball. Seemingly, the celluloid balls are smaller than 40+mm, and the plastic balls are more extensive than 40mm in size.
Speed
When it comes to speed, keep one rule of thumb in mind; the smaller the balls, the faster they get. However, if you are a professional table tennis player, you must be looking for balls that offer more speed. Moreover, the celluloid balls are speedier than the plastic ping pong balls.
Color
Although the ping pong balls come in various shades, white and orange are standard colors in table tennis. So, if you are choosing the ball for children or enjoyment, you can pick any shade as per your desire. However, if you are getting trained for the tournament and playing professionally, you must choose between the customary shades.
Spin
If you want more control over your table tennis ball, you would require a ball with a high spin. Since the heavier the spin, the more it will be controllable. Besides, the ping pong balls made with seamless plastic are not ideal for a spin as compared to the seamed plastic balls. Yet, the celluloid balls are considered the best for spinning.
Bounce
The ideal bounce should be neither too high nor too low. Generally, the celluloid ball offers an elegant bounce. On the other hand, the seamed balls provide the lowest, and the seamless balls give the highest bounce.
Budget
Budget is another crucial factor that should not be ignored because if you could not decide how much you are willing to spend; you won't be able to choose the product. Anyhow, if you hunt for a cheaper ping pong ball, then the seamed balls are pretty affordable to buy than the plastic and celluloid ones, which cost high. Whatever your budget is, make sure to spend on a high-quality product.Â
Final Words
Whether you are looking for the best ping pong balls for beer pong, professional player, casual player, tournament, or championship, you would get multiple options here that meet your requirement. However, it is important to consider personal accounts and identify what you are actually looking for. Therefore, I have selected every product from a high-class manufacturer so that you don't doubt the quality of the product. Still, if you are unable to decide which one you should pick, below are some suggestions for you.
If you are a professional table tennis player, who plays the game on a regular basis, go for PRO-SPIN Ping Pong Balls. This ping pong ball set is ideal for aggressive and responsive shots. Moreover, these are the most durable products available on the list.
On the other hand, the Killerspin 4-Star Ping Pong Balls is another incredible option. These balls are made with the newest material type that makes the product very durable and sleek. Though these balls are only available in white color, the Killerspin brand has its own worth.
FAQs
Are ping pong and table tennis balls the same?
Typically, they are considered the same. But officially, the ping pong balls are somewhat larger than the table tennis balls. The ping pong ball is 3.7mm, and the table tennis ball is 3.4mm in diameter.
What is the difference between orange and white ping pong balls?
Well, in a table tennis game, orange and white are the standard colors, yet there is no significant difference between the two. The orange ball is more visible than the while, which is mainly used by beginners for training.
What is a 3-star ping pong ball?
The 3-star ping pong ball is denoted as more durable and is used by professionals only for championships and tournaments. However, the 1-stat and 2-star balls are less durable and usually used for practicing.
Why do ping pong balls come in two shades?
Basically, the purpose of making the balls in these two shades was to distinguish the rubber used by the opponent while playing. Earlier in 1983, many players played with the same colored rubbers for different executions, which became difficult to differentiate.